Artix Linux
Antix
Couple more for the list...
For Adobe S.W., Wine may help.
Bluetooth- try Blueman
Bluetooth is Simple dongle compatibility with Zorin. Wine not specially working great, maybe windows support app?
Zorin Windows App Support is Wine.
Not exactly. It is some emulator help, because .exe start from wine not working but win support app - when used working. It is possible learning Linux on distribution Zorin?
I saw the MX Linux info in DistroWatch (Debian (Stable), antiX).
The site isn't that reliable, in general or just this case?
[Edited]
Oh, I didn't see the development of antiX is still active. I thought it was discontinued. My bad.
Dude, the minute I read from you that the website isn't that reliable, I begin thinking, if they can't maintain a reliable website, that how likely is it that they are going to maintain a reliable OS? "Logic"
And also u can solve bluetooth issue ,
It's just a mistake coz most of pc built in keeping windows in mind ,
I faced bluetooth problem for a year but i found its solutions .
adobe wont work but thats okay with me because i really liked the new version of kdenlive but bluetooth is connecting and then immedeately disconnecting. Thats the thing that really annoys me, It could also be an issue with the earphone. I tried claiming my warranty and they have accepted the claim so i will update on the topic
thank you, But i prefer using linux only. Windows feels so laggy and bloated to me when i tried it after using linux for a month so i am gonna stay with linux itself
I agree Windows is bloated, its filled with junk to mine your data and sell it to the highest bidder. None of it is for you, its for them, to use against you.
Cause with Windows, you don't pay to own Windows, you pay a license for right to use Windows.
When someone was using windows long time then in one day forward to using only linux is like a cut oxygen. I preffer a road to heaven learning linux and discovered him what eaten some hours with some problems or how things working.
One what I can sayed Zorin is faster and stable.
Then people are like animals selling on market. Slave not free for using all this big boys. Bussines not make a money? If someone start love a money then the hands always are dirty and blood on hands.
What I meant by "The site isn't that reliable, in general or just this case?", I meant DistroWatch site.
I don't know if its information is trustworthy. I believe it is, but I'm not sure.
I personally find Distrowatch to be reasonably accurate and quick with corrections. It is my first stop to preview any distro, before looking more into depth on that distros webpage or other resources.
Are you sure? It would be news to me.
According to Wiki, it's started from Red Hat.
I tried both Zorin and POP extensively. Both are good. However, in the end I opted for Fedora 34 (35 is out shortly BTW) with Gnome extensions to give me a "start menu" (although I could live with default Gnome if I had to).
On both Zorin and POP I had bluetooth connectivity issues, namely my bluetooth speaker did not auto connect on startup. This was a minor annoyance which I was prepared to live with. However, on Fedora 34 the problem is not present. (A total guess, but it may be that Fedora 34 is using Gnome 40).
Here is a screenie of my Fedora desktop: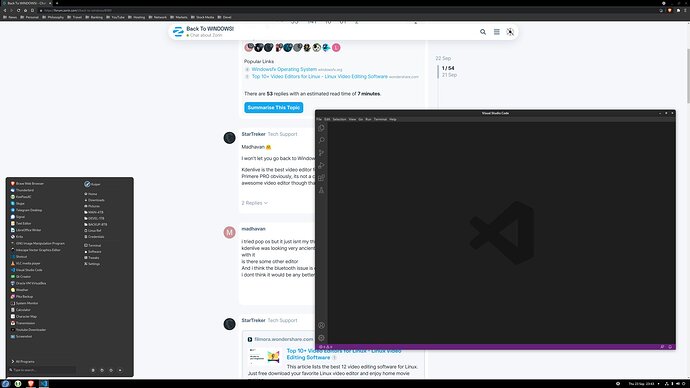 Use GnomeTweaks to get a dark theme.
To change the default Gnome desktop to one with a "start menu", as shown, you need:
https://extensions.gnome.org/extension/1160/dash-to-panel/
https://extensions.gnome.org/extension/3628/arcmenu/
It's a little strange in that these need to be installed via the browser. But once done, they work fabulously well. The ArcMenu is way better than Windows 10 IMHO.
The only issue I've ever had with Fedora was that it did not recognise my printer out of the box. But this was fixed with:
sudo dnf install splix
Agree that for people like me (and presumbly yourself) Windows 11 is not the way to go.
It's the same with my Sennheiser PXC550 headphones/set. I ususally have to manually reconnect it.
PS. I haven't tried Kdenlive, but use Shotcut on Linux (also on Windows).