Hiya,
As a Windows 10 user I hear and agree with constant complaints that settings are all over the place. It's as annoying as it's true.
IMO some Linux settings deserve the same criticism. I'll address a few I've found in Zorin merely for… consideration. Don't panic. Nothing personal. It's just feedback on an otherwise dandy distro.
But it can be trying when you spend minutes looking for something that should require seconds. To me it means the setting is in a non-intuitive spot.
WINDOW SETTINGS
Suppose you want to make folder in (the finder/file explorer) look bigger? That would be a Zorin 'appearance' issue, correct?
But it isn't. Instead the feature is local to where you need it.
The problem is those dots are meant to not be too distracting. The ■■■■ in Win10's FE ribbon is ugly as hell. But here is the opposite problem. They're so gentle (?) they can be missed.
And I understand that having this setting local is important because, of course, sometimes you need to change the view fast. My point is that if you're a noob to Zorin I'd bet most people will open Zorin appearance first. And get frustrated.
SOLUTION – If possible, in Zorin appearance, leave a tab for 'Window View/Content'. We click it and one of two things happen –
Fancy would be that a window opens and reveals that adjustment settings. That is: you're taken out of Zorin Appearance and into a window to said settings.
Acceptable is that a window reveals a dialog and picture explaining where these settings live.
An alternative solution is to give those three dots a different color than the theme. Not different. Just enough to say, hey, it's me.

POINTER SIZE
This one is simple. Zorin presumes that if you can't see the pointer arrow you have bad eyes. So to make the pointer bigger you have to go to Universal Access.
My problem is there are scenarios where this isn't a vision issue at all. Hi DPI monitors, for instance, shrink that pointer to absurdity.
Or how about my scenario that my Zorin is on my Samsung TV? It simply needs to go up a notch to be easier viewed from 10 or so feet away.
So guess where I go? Mouse settings. The pointer is directly connected to the mouse, right? That's intuitive. To me, at least.
At the moment I forget where mouse settings are, but I'd have that feature where 'cursor size' might be a setting right there… as well as the one in Universal Access. If that's a hassle then either the fancy option of being brought to where the setting really is or the acceptable one of a dialog telling you where.
(Before I go – there's a naming issue here. A cursor isn't a pointer, even though they share the same space. Shouldn't that setting read – Pointer/Cursor?)
PANEL
Win10 got this one right. The most intuitive place for PANEL settings? Right click at the panel.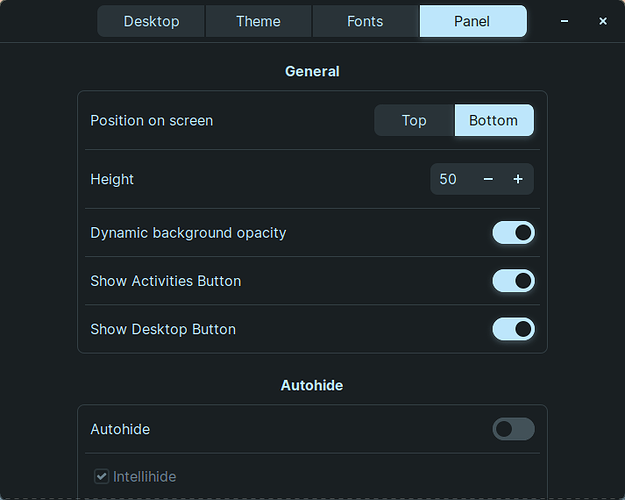 What does Panel have to do with appearance? I mean, yes, it appears in front of you when using Zorin (lol) but, like the windows, it's also a thing onto itself. I don't mind if the panel settings appear in appearance. What I mind is that they do not appear in the panel.
This is sort of the reverse problem with managing windows.
Again, not trying to offend anyone. Just sharing my feedback.