Mic not working but blue indicator show nearly 0
You need to provide some information for us to help you.
Is the headphone/mic bluetooth or wired (USB)?
What soundcard do you have?
In terminal open alsamixer
Hit F5 to display all channels and post a screenshot.
Unmute any by selecting then hit M, also increase level.
Also can check Auto-mute is not Enabled.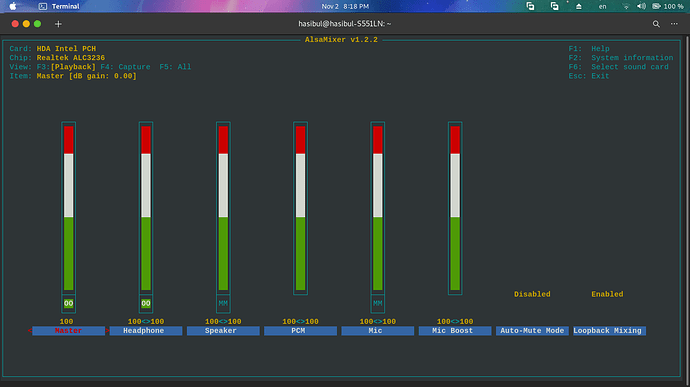 I have recorded a video but no sound. but I hear hisss sound. I think mic not working. but work on windows.
You have Spreaker and Mic muted. Have you tried unmuting them?
To unmute a sound channel in alsamixer, just pan across to the channel showing as [M] then hit M key to unmute. Also increase the sound level.
Can you answer those initial questions.
Also Hit [F5] in alsamixer shows All the sound channels. If you post a screenshot of All the sound channels then we may find another Mic channel maybe.
I assume you have already had a play with different Auto-Mute Mode and Loopback Mixing enabled/disabled settings.
By wired, I assume 3.5mm jack. If USB, then you could try another USB port.
I am out of ideas.
You can widen your websearch to "alc3236 no mic ubuntu 20.04". Here is one that appears from that search:
how to find audio codec in terminal?
Have you tried different interfaces, I mean trying to play music through the web browser, with media players like VLC, opening an audio file with Audacity, etc?
This topic was automatically closed 90 days after the last reply. New replies are no longer allowed.