I wanted to install Aseprite in my laptop. I found that linux users can complie it from sourc for free. I did not know how to do it so I searched how to do it on the internet and found this webpage: How to install Aseprite on Linux
And it tried the commands said there and while I was running git clone https://chromium.googlesource.com/chromium/tools/depot_tools.git the downloading stopped for a few seconds and then continued the downloading process. But my system became too unresponsive and every click I use just opened whiskermenu. Pressed my power button and I tried to press shutdown using my mouse but it did not work anymore. I used my keyboard and pressed shutdown. I booted it up again and when I press my right mouse button I have to like press it a hundred times to get it to work. My xfce4 panel is missing and when I run 'xfce4-paneI -r' in my terminal I get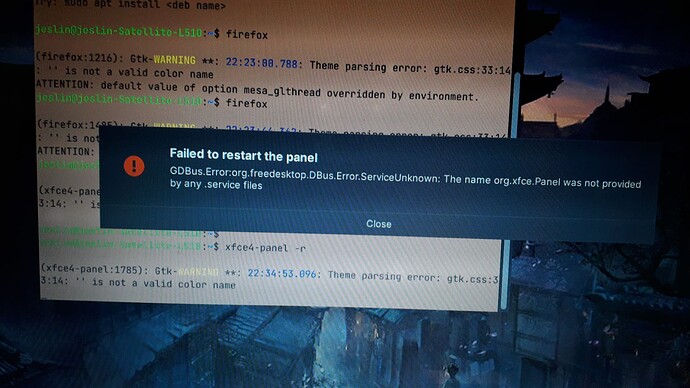 I restarted my laptop again and after I opened the terminal from right click menu, the window buttons like close minimize ect are not visible anymore. The whole title bar is missing.
Please help.
EDIT: One more thing, on my second boot my laptop showed a terminal with the following on boot

Also I found my Zori OS 16 Live USB that I used to install. Do I have any way other than reinstall to get my it back to working state.
And one more thing, if all these problems does not end up being the result of some mistake that I unknowingly made during installation, I am putting that tutorial to the wall of shame.