Yesterday, I took a gamble and updated to the nvidia 520 driver via the "Additional Software" app in Zorin.
I forget the previous driver version, but it is whatever the most recent "proprietary, tested" version was.
Immediately after rebooting, I had a black screen. I have had this in the past... so I switched to the HDMI port on my motherboard, rebooted, and I actually did get to the Zorin desktop. I tried rebooting again after that, and ever since, I have been stuck on this image: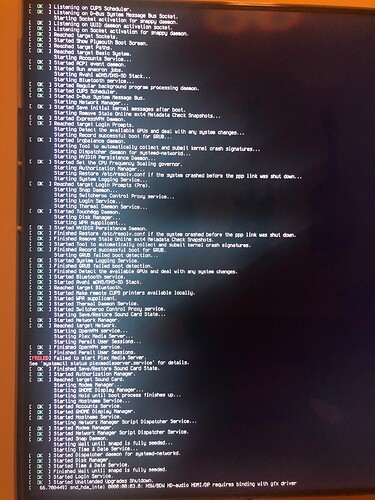 I've tried holding down Shift or c on boot to get to Grub... I remember in the past there was some nomodeset option that needed to be changed, and then my GPU would work again. I cannot seem to get to any screen other than what the image above shows.
I did make a Zorin install USB so I could open the Boot Repair tool. I get some error about UEFI USB when I attempt the "recommended repair"... I'm not sure how to resolve that. I did generate a Boot info file that is available at this url:
I did look at a number of related posts, but as I mentioned... I cannot boot to anything that lets me enter the recommended commands. If any one can offer advice, I would greatly appreciate it. I would prefer to not need to re-install the OS. Ideally, I just get back to booting to the desktop via my GPU.