How do I change the default location?
After you have taken your screenshot a new window appears.
Use the down arrow next to the save location [Save to folder:] to change it - remember that once you have made this change all future shots will be saved to that location until you change it to a different folder (which is what I did when creating the unofficial manual):

I had to use a different screenshot application to the basic one - a lot more functionality - Shutter.
I don't see a new window appearing after taking a screenshot.
Did you set a delay? That aside you should still get a window popping up as by default it will want to save as Screenshot | Date.png and want to save it to it's default location so you should get a dialog to enable you to change save location and also in the file name slot to alter to .jpg
I get the same when using a shortcut, but after reading the "Help" manual this seems to be normal.
"When you use a keyboard shortcut, the image is automatically saved in your Pictures folder…"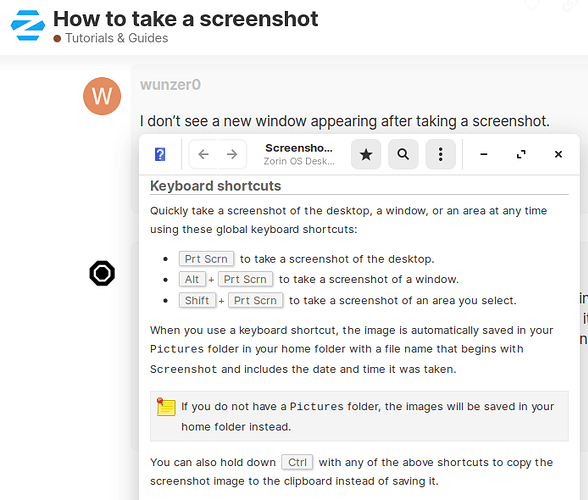 Gnome-screenshot or XFCE4-screenshot? Zorin can have either depending on Core or Lite. And you can download either on either. It's all kinds of versatile.
Using Core shortcut, images go directly to "Pictures" and no window appears, but using Lite (XFCE) shortcut there is a window with options.
Well, I would just
sudo apt-get install xfce4-screenshooter
and then set it to default and let it ride, then.
It gets confusing when I have Core on my desktop and XFCE Lite on my laptop.