Yeah i edited my post haha...already used google
Since you have IRST, the problem may be the fakeraid tables in the drives. Try turning off (disabling) IRST in windows. We can delete the raid table in the front of the drive. This should allow all drives to be recognized by any installer then.
If you visit the following link and perform the commands under the link with the hash tags in post 5 or 6 it should get rid of the tables for you.
Thanks for all the posts, i will check it out when i am behind my lapto again. What will it do with windows when i run these commands ?
As long as you turn off irst in windows first, nothing.
@337harvey: This is how my IRST looks like, in windows i only installed the app and didn't do anything with it.
It might be in the advanced settings in one of those windows... it will say enabled, you need to change it to disabled. If you delete the raid tables now it will break things. Instead of green check marks next to the two drives there should be a red x. I'm sorry, but i don't know what language that is and do not understand it.
You can search disabling irst in windows.
If i delete irst application ??? as i understand there is no raid table configured. In status it says "create a volume by combining available drives to expand your storage system"
It may have created a default table regardless of your setting it or not. At one point it must have been on because that is the reason you are getting the unrecognized disk at times. So one must exist. There may also be a setting for it in the bios. I'm not that familiar with the technology because i haven't used it, only read about it. I could be wrong, but this is what has been causing the unrecognized drive issues in hardware with this available. I have you the link above, read up on it and handle it how you wish.
I do not know if this link has been already posted here:
https://help.ubuntu.com/rst/
RST & Ubuntu installation

If you intend to install Ubuntu on a computer that supports RST functionality, you may need to make operational adjustments to your setup before you can proceed.

By default, the Ubuntu installer can detect certain RAID configurations, but it may not necessarily be able to access and use the hard disks grouped in them.

If the Ubuntu installer cannot detect the hard disks you need, then before you can install Ubuntu, you will need to turn RST in the computer's BIOS. The exact terminology and steps required to access and manage RST in BIOS often depend on the specific implementation by the platform vendor. For instance, Dell computers may have different settings from Lenovo or HP computers.

Furthermore, you may already have Windows installed on the computer that uses RST. If you disable RST in the BIOS or change the RST configuration, Windows may become unbootable, as it may no longer be able to find and use the hard disks.
I remember once I was trying to get Windows 7 to boot up from a high capacity hard drive connected to early Sata 1 interface, on an old AMD single core 64-bit machine.
Nothing I did could make it work, until I set the drive up in the bio's for RAID. Once RAID was enabled, even though it wasn't a real RAID having only 1-drive in the system, suddenly, the hard drive could be booted from.
I always assumed this was due to the fact that the Asus A8V Deluxe motherboard bio's were just too ancient to properly detect and boot from the drive unless RAID was engaged, which maybe still indeed the case. Still have that old desktop machine BTW. lol
But it is indeed possible, that weird oddities like that, are still present in modern systems, when in regards to the newest and and greatest NVME SSD drives. Anyways, thought I'd share my experience.
Hello, I'm new, unfortunately as a programmer I'm a duffer, and that's also why I bought Zorin Pro to have a help in the configuration, my platform is Amd x399, I have three nvme disks that Zorin sees almost correctly even if it is he who decided where to install himself, the problem is that he does not see the mechanical hdds configured in raid from the bios, which on Zorin would be very useful to me. I don't know how to install the drivers, can you help me? Thanks
Translated with www.DeepL.com/Translator (free version)
Hi and welcome to the forum

I will merge your thread with the pre-existing similar one to concentrate help from the volunteers.
I'm Italian I use dp translator to have a wider audience (if you think I can write in Italian without translating), my disks are seagate, 2 firecuda 2tb in jbod(single mode), and two barracuda 4tera in raid 0 for 8tb; windows sees them as "amd array" and they are 3 arrays the 2 firecuda in jbod and the one 8tb array.
While your HDD is not WD, I think we can safely address the problem in this thread.
As you might have noticed we have been discussing this nvme/HDD mixed environment and still could not reach any firm conclusion.
Zorin has chosen to install itself on the fastest disk, a sabrent, but it has made a small partition of 45gb; I don't know if I can change the directories of the file folders moving them to the samsung that has an ntfs partition, I should create an Ext4 partition but I don't know how to do it without formatting the whole disk (which already happened, but there were steam games installed so recoverable from the cloud, in fact I have also installed steam here on zorin and I would like to try it, do you know if Zorin can activate hdr?). Thanks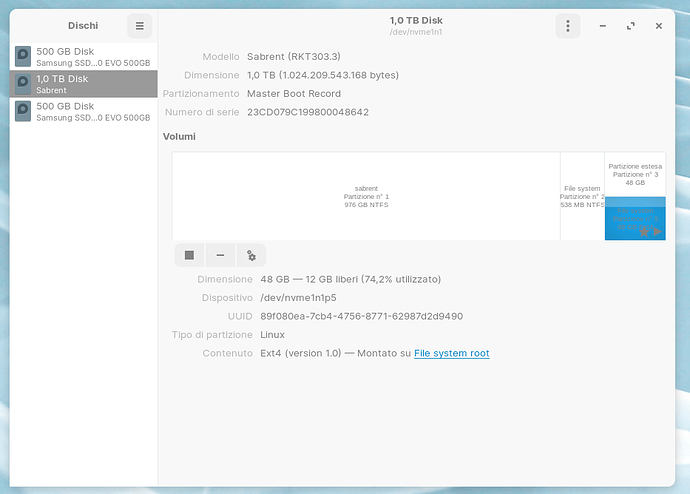 Hi, just for your reference, this is how my disk looks like:
Unless you have other OS on your disk, the partition looks very wrong to me. I will ask other volunteers how this might be solved.
@Aravisian @zabadabadoo @Kedric @tomscharbach
that sabrent disk is almost full, (of windows games) i tried during the installation to choose a different partition but it crashed, so i let Zorin install the dual boot with windows by himself, which works fine. Ah! and it doesn't see the old LG blueray burner...
I have noted that other nVME users have stated that there was a crash in the installer when using the "Something Else" option.
Are you set in your BIOS settings to AHCI or to RAID?
@Aravisian I think you need mentally translate "he" to "it" to understand the above statement by OP. My husband (true blue French) makes this mistake all time and now I got used to it

In Latin languages, everything has a gender.