I am not sure how the ZorinGroup will manage that. Are you signed up for Zorin Newsletter?
I don't want to jinx it, as I'm writing this from my backup pc, because it would appear the latest ISO is working...



Will update in a few...
It is now Installed!!! Sorry if anyone was waiting, but was playing with the layouts and some other things...
yes... I guess we wait and see... I know stuff happens, but as a first time "user" and purchaser of pro, somewhat disappointing there is no communication via that newsletter/email about the status of such a major issue...
that is great news... will go and do the same and hoping for the same result... thank you
Yes, the new iso is good... no issues on boot from usb... many thanks for fixing..
double confirm here, successful boot and install on Dell XPS laptop, ty
Was it just Z16 Pro that had the problem and not Z16 Core as well?
I have just checked the published SHA256 for Z16 Core and it is unchanged from day 1. So I suspect Z16 Core must therefore be unchanged from day 1 also. I am just doing another download to see if filesize or anything has changed.
EDIT: I have just re-downloaded Z16 Core. The filesize and SHA256 checksum matches the original. So I assume Z16 Core remains same as day 1 (2021-08-18).
I'm not exactly sure zabadabadoo, I just read the link that Aravisian posted yesterday from the Zorin Group which stated Dell, and some other people posted same issue with non-Dell pc's. Whether it was with Core or Pro, would have to re-read the post.. I just hope it's fixed when Lite comes out...lol
Which made me think Aravisian spoke highly of 16 yesterday, and he's a lite user. So 16 must really be good...lol
it was an upstream bug with the boot shim, so I believe it affected Pro and Core for some hardware such as Dell's, I know I was unable to boot either as is yesterday. At the moment, it seems the Pro iso has been updated with the fix, unsure if the Core iso has been updated yet.
No announcement yet on the actual fix- some users just may be having more luck.
It certainly will be by then.
It is.
I installed the XFCE4 and Cinnamon both on it... but the changes ZorinGroup made to how Gnome D.E. works is impressive consideration.
This may be a version control headache for the devs. They can either sneak out revised .iso's labelled Z16... or minor increment the modified files to Z16.0.1...
I hope they tell us one way or another. I would prefer to have a "fixed" .iso with a known version status for installation and to hold onto as backup.
I doubt they would even be put in any position to sneak a patch in lol
It's the Main Topic of the forum right now. It's the Big news, the hottest trend.
Lessons learned: Seek more Dell users for Beta testing.
But guess that would not help if the problem did not appear in the Beta .iso.
Paranoia removed, who cares about records... Records? What records?
Several of the download mirrors are showing a Zorin-OS-16-Core-64-bit-r1.iso uploaded Aug 20 alongside the original iso. I am downloading from UMD right now to see if it fixes the problem on my Dell. The links and the checksums on the zorin.com/os/download/ still point to the original iso.
Edit: -r1 iso did not fix the issue for me. Still getting black screen upon choosing any of the install options (normal, safe or Nvidia). So far the only thing that works is going back to 18.04-based installs (Zorin 15.3 and Mint 19.3 both working).
apparently new isos for the efi boot shim fix are being tested and syncing out, may take a bit but there should be a new checksum and announcement
Please see here for new sha256
I have a turntable on my bench , I love records!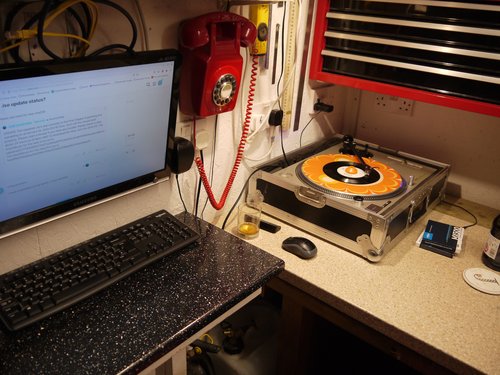 The updated iso files are now available.
Please see this post for details: