And here dear friends is how I get myself in trouble when I don't really need to change anything .... I was browsing through some old posts on the forum and found one that NayamAmarshe made on how to update your Kernel to latest version if you needed to ....
I followed the steps outlined in the post and without finishing the rest of the post almost decided to try Version 6 which is the latest one on the list ...... but something told me to read a little more and sure enough I found someone who tried Kernel 6 and had to reinstall their old version ....
Thank god I didn't go through with it because I don't know how to roll back to a previous kernel ..... I think you have to use grub but have no idea how as I have never tied it before .... which probably saved me THIS TIME .....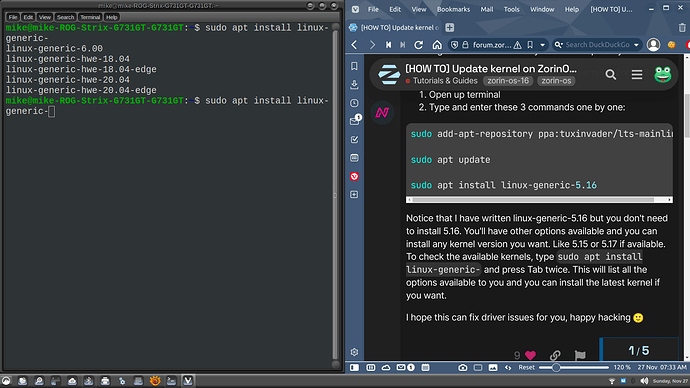 One of my biggest faults and problems I have on Zorin .... Win 10 doesn't matter cause I can't change anything on there if I wanted to except maybe in the Registry .... is that I see stuff on the board and even though I may not have that problem I want to try it ....
Another good example is a post I read today by Aravisian to someone who was having a problem with the Steam download and told them to use the terminal to install Steam .... I was going to try that but my Steam is working just fine but again the temptation was still there ....
So now you understand why I ask questions here on the board instead of searching the web to answer my questions because all I do is get myself in trouble .... the answers I get here are tried and true not something that is out of date or wrong for me to install on my OS ....
Now if I can control myself from installing things that I read from this board it will make my life and yours a whole lot simpler .....