I haven't got the update... yet.
Sad to report it's a false update: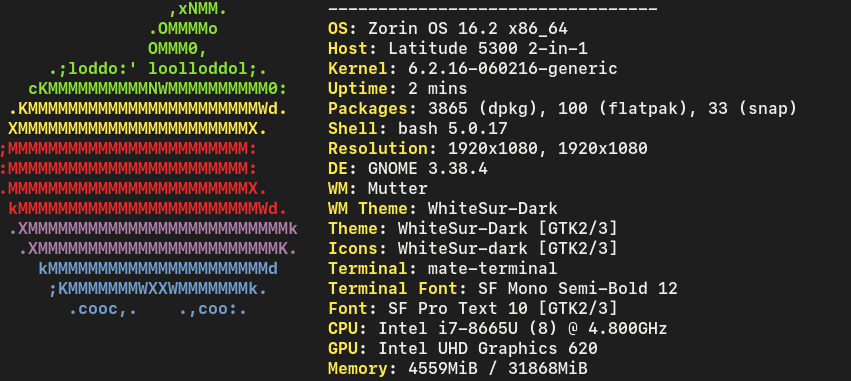 Still on 3.38.4
Oh well. I got excited.
Curious: Has anyone been successful in updating to Gnome 4* versions and if so, what parts of ZorinOS did it break?
That update was for a Flatpak dependency - not for the Zorin OS Core Desktop.
at 482mb in size? Seems a bit much for a flatpak update.
Oh. Maybe it is a Snap not a Flatpak.
One of those containers.
Tried rebooting again to see if Gnome 42 was an option to log into and it was not.
Odd that it says it is there but I can not access it.
Those are containerized dependencies for Flatpak or Snap packages. They are not the system desktop environment.
Should have stated that I installed this, too:
therealduckie@duckies-macbook-pro ~ % sudo apt install gnome-session gdm3
Still no options, other than 3.38.4
That command will install the Gnome Session from the Zorin Repository which is at its current version of 3.38.
Please remember that Gnome 40+ was launched after Zorin OS 16 was released and it was not even picked up by Ubuntu until 21.10 and it was a very uncertain thing that 22.04 would include Gnome42. It was a very near thing.
What you are seeing in the Software Store are dependencies for the Containerized Snap or Flatpak packages. Users, such as myself, that have uninstalled SnapD and Flatpak do not get those upgrade options at all, even.
Thanks for that I was wondering why I had never received any notifications of some of these updates other folks are getting .....
Well that's resolved a query I was to make thank you.
By what I know since I installed updates from there, the sizes you read on those moments is simply the original file size, not the new update size itself. Because I was wondering if it was possible that in a few weeks I had to use about 1 GB to apply about 4 updates and then once a game update was available I noticed that its size was its original download size that I remembered and in fact when I checked it it was as I thought.
This topic was automatically closed 90 days after the last reply. New replies are no longer allowed.