Hello,
I create a new topic for my issue after a few hours searching for fix on the forum that didn't solve my problem.
My PC is stuck with a black screen (without text or mouse pointer) when leaving the suspend mode. I can't do anything but restart the PC.
It goes in suspend mode nicely but can't start again the session.
I noticed that screen saving (screen turned off after specific time set for power saving) gets stuck as well when return activity on the PC.
But for the screen saving mode, the screen shows the task bar and the notification menu anyway, but this one has limited features instead of the normal features on the session.
So temporarily, I have disabled the screen saving and the suspend mode in zorin settings.
I have tried many fix today by searching the forum for topic related to suspend mode issue but I couldn't solve the problem.
On the picture here are my system specs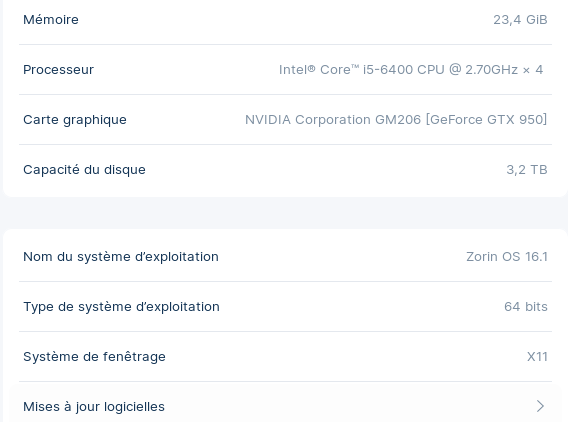 I run ZOrin OS 16.1 Core with 5.15.0-46-generic kernel. Previously, I created 25 GB of a swap partition by following some topic related to hibernation issues, but I gave up with this feature because of the horrible time it takes to switch hibernated or leaving this mode.
I am asking for some help on that issue. I am a relatively new user of linux.
I already thank you for reading my topic.