Yes, I have installed touche and touchegg. But it didn't still work. Yes, I using Xorg.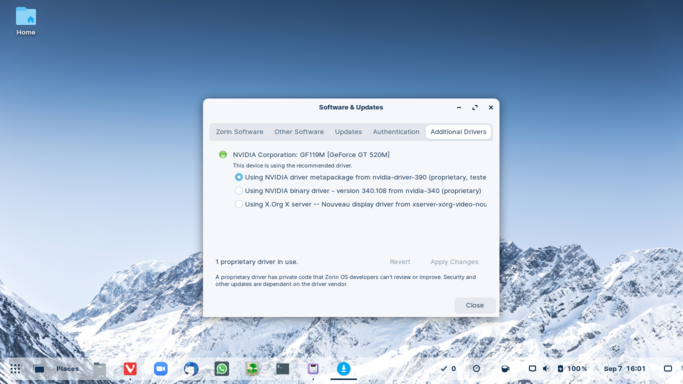 Dear Kedric,
Is it because I'm using Nvidia driver? should I replace it with X-org -X server?
I think that Nvidia has no bearing on the touchpad.
Do you have synpatics installed?
sudo apt install -y xserver-xorg-input-synaptics
Also, if you are using a dedicated onboard graphics card as well as Nvidia, you will be using xorg and Nvidia, depending on which graphics card is in operation.
Dear Aravisian,
I have installed synaptics, what should i do next? my xserver-xorg-input-synaptics is already the newest version (1.9.1-1ubuntu3).
"Already newest" means it is already installed. Had it not been, you would not need to do anything extra, just reboot to see if it works. But since it is already installed, we can see that will not solve your problem.
What is the terminal output of:
systemctl status touchegg.service
Ok, the service is running and looks good... Can you please open the Zorin App Menu and type into it
touche
This should isolate the touche app - double click it to launch it.
Once the GUI configuration window is open, enable the gestures you wish to use by following the prompts in the window. The gestures should take effect immediately, no need to restart.
If the above does not work: There is also a gnome-extension for gestures:
https://extensions.gnome.org/extension/4033/x11-gestures/
I do not know much about the extension, though - perhaps others can be more helpful than I can.
I have try using touche app and the gnome extension. The gestures should not take effect.
Dear Aravisian, I already try all of the steps above, but they are didn't work. All commands installed properly, after I try in my touchpad, didn't work. I thought there is something wrong with my touchpad hardware.
I tried using the gestures app. But I have a problem with the backend. Could you tell me how to fix it?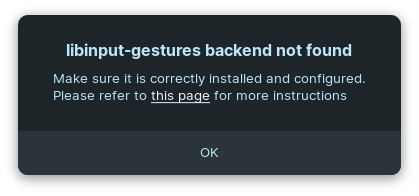 I wonder if you have one of those Synaptics trackpads which seems not working with Touche.
And you could not make it work, right?
Is xdotool installed?
Did you add your user account to the input user group?
Given the error, it looks like something went wrong with a step along the way. Can you please retrace your steps - Or take each step one at a time in thread?
For now this isn't that important. I want to try out KDE Plasma.