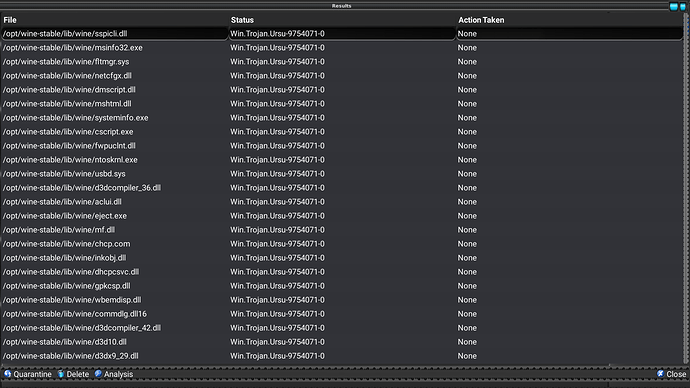 I was seeing some strange lagging activity with Steam recently, so I decided to run a system wide scan. And boy was I in for a shock, when over 1000 infections were found via the same exact trojan virus. I have been infected by this same virus before, I remember it, and removed it.
But at that time, there were only two infected files, and it wasn't that big of a deal. After removing the said infection, I thought I was safe, clearly, I was wrong. Some of the files located in other wine directories, I was able to get the infections removed.
However, all these infected files that I am unable to remove, are all located in the OPT directory under Wine-Stable. I don't understand why ClamTK refuses to let me delete those infected files, there are just over 800 of them! Thinking maybe the GUI was at fault, I Googled the code for executing a terminal based scan.
I specifically executed a system wide scan with auto remove as the option, and this was a sudo command, which means, it should have full permissions! Once the scan was over, it came back saying 800+ infections that couldn't be removed.
So ya, saying that I am frustrated would be an understatement.