[Continuing to split my big post up into separate ones! Apologies if anything seems disjointed as a result. Message says I can't post more for 21 hours, so I'll have to put the other questions on tomorrow...]
5> File explorer – customising the shortcuts
I think the program I used most in Windows was File Explorer, and likewise in Zorin it will be Files. I'm really pleased the shortcut Win+E opens it in Zorin!
In Windows I hated the default layout. As you've seen, I used the Desktop, and the D:. The D: was set up with all my content in a tidy hierarchy of types (software, financial, fiction business, photos etc). I avoided ever using the Windows default folders in the user directory for a number of reasons – not least because often programs would save junk in there! As far as I was concerned, my D: was only files and folders I specifically put there.
So in Windows I used a Windows Explorer hack to hide some of the things I never used, to get rid of some clutter: Homegroup, Libraries, Network, User home folder, Control Panel etc. The image shows how I used to have it set up. I really just used the shortcuts at the top left to get to some of my main folders, including the Desktop, and also shortcuts to the C: and D: if I needed any other location. The lower section I mostly ignored (especially because it still had things I never used from explorer, and also automatically added folders off my desktop, making Win Ex still too cluttered).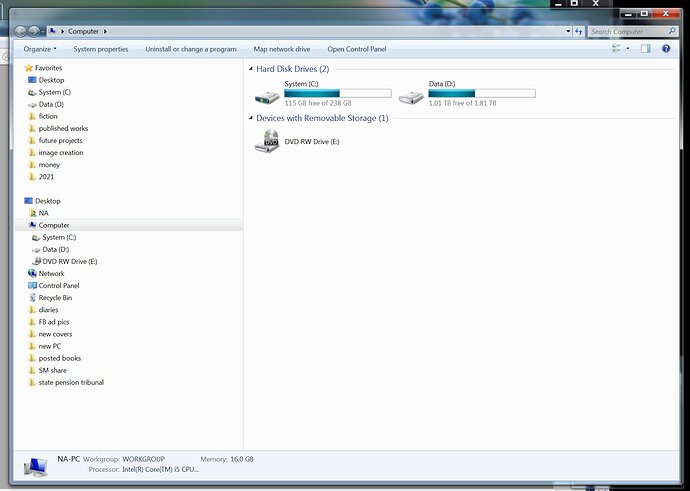 A long time ago I asked about customising the Files tool in Zorin. Zorin told me that I can hide the main folder shortcuts at the top of the sidebar. "File browsers in Linux get the main shortcut folders from a config file in your home folder. To customize this, please open the Terminal and enter this command: gedit .config/user-dirs.dirs In the new text editor window, you can hide the folders you wish by adding a "#" character to the beginning of the corresponding line. After saving the file and logging out and in again, you should see the changes applied. If you don't have any files in the folders you've hidden, you can safely delete these folders if you wish."
So I hid these:
#XDG_DOWNLOAD_DIR="$HOME/Downloads"
#XDG_TEMPLATES_DIR="$HOME/Templates"
#XDG_PUBLICSHARE_DIR="$HOME/Public"
#XDG_DOCUMENTS_DIR="$HOME/Documents"
#XDG_MUSIC_DIR="$HOME/Music"
#XDG_PICTURES_DIR="$HOME/Pictures"
#XDG_VIDEOS_DIR="$HOME/Videos"
However, even when I reboot the PC, they are all still there in Files, and if I reopen the .dirs file the hashes are gone. This used to work, but not any more. So:
How do I hide those unwanted links (which I never use)? Is there a process that replaces the one above, but which still works?

Will it also work for Save As dialogues, or will the unwanted options show up there?

As an aside – is there a way to change what folder shows when Files opens? By default it is "Home", but I would rather I could change it to Desktop.

As a second aside, is there any hierarchical tree view option for the left pane? Or just the breadcrumb trail at the top? If the latter that's fine, just an adjustment (e.g. it makes it harder to drag a file between two folders).
If I could get rid of unwanted folders then I could use the New Bookmarks section to add shortcuts to the folders I want and it would be nice and uncluttered.