I recently upgraded from Zorin Core 12 (yes, I know) to Core 16 as a dual-boot with Windows 10. The upgrade itself went fine, but things went wrong when I tried to reinstall a driver and instead of disabling secure boot switched from UEFI to Legacy BIOS boot mode. Got it switched back, but at that point, Zorin seemed gone. The computer automatically booted into Windows. I followed the advice here: partition - Zorin/Windows 7 Dual Boot on New Hard Drive, no GRUB! - Unix & Linux Stack Exchange (in short, remade the bootstick, created a mountpoint, mounted system on mountpoint, change root, reboot)
That also kind of worked, in that there were now three boot options in BIOS:
Windows Boot Manager (HFS256G39TND-N210A)
Windows Boot Manager
Windows Boot Manager
Switched generic #2 to load first and that did load into Zorin, but... still no dual option at startup. Ran a grub recovery tool, and when the system restarted it only wants to boot Windows again. There are only two boot options this time around,
Windows Boot Manager (HFS256G39TND-N210A)
Windows Boot Manager
and this time switching the boot order didn't have an effect. The system still booted into Windows.
I'm a complete newbie in over my head and quite frankly am wondering if it's even possible to fix at this point. Even if it's a wash, I'm concerned something happened with the partitions that would make a 'clean' reinstall a disaster. I've attached a screenshot of the partitions as they are now, but I'm not sure where to go from here.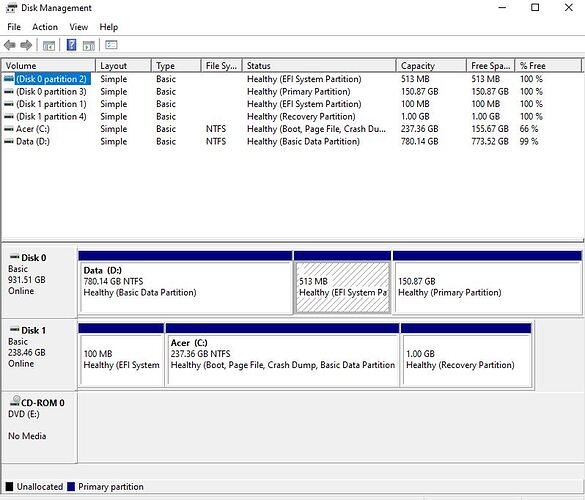 Any advice would be appreciated, but please keep in mind that when I say 'newbie', I mean 'never touched a terminal before Zorin two years ago/ 2-3 steps above your computer-illiterate relative who uses you for tech support' newbie. I can follow directions, but may ask for clarification/definition on 'basic' things.