hi there,
I have two monitors 4k 27" and HD 24" so I did set up a fractional scaling. Since the I noticed few issues. The VirtualBox app doesn't display any GUI elements inside the main window.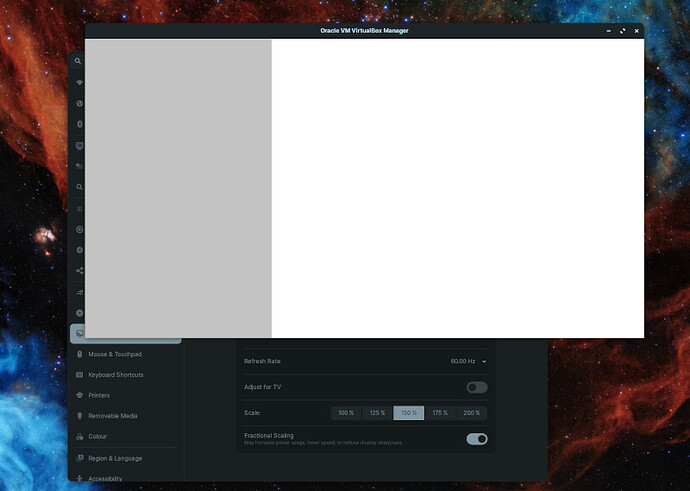 VLC doesn't display any video but I can hear audio.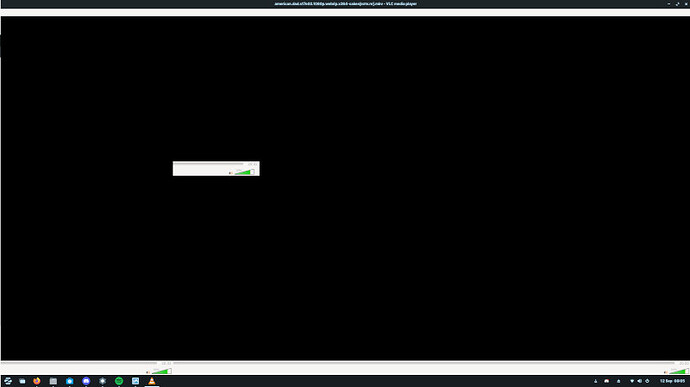 The default video app does display everything correctly as long as it's not in full screen mode. When I go to full screen mode the app is moved into my second screen and resolution/scaling is changed.
All the problems are gone when I turn off fractional scaling.
System:    Host: l080-PC Kernel: 5.11.0-34-generic x86_64 bits: 64 compiler: N/A 
           Desktop: Gnome 3.38.4 Distro: Zorin OS 16 base: Ubuntu 20.04 LTS Focal 
Machine:   Type: Desktop Mobo: Micro-Star model: Z490-A PRO (MS-7C75) v: 1.0 
           serial: <superuser/root required> UEFI: American Megatrends v: 2.90 date: 04/20/2021 
CPU:       Topology: 10-Core model: Intel Core i9-10850K bits: 64 type: MT MCP arch: N/A 
           L2 cache: 20.0 MiB 
           flags: avx avx2 lm nx pae sse sse2 sse3 sse4_1 sse4_2 ssse3 vmx bogomips: 144000 
           Speed: 896 MHz min/max: 800/5200 MHz Core speeds (MHz): 1: 931 2: 4514 3: 3356 
           4: 2042 5: 1384 6: 1121 7: 800 8: 800 9: 800 10: 800 11: 800 12: 800 13: 800 14: 800 
           15: 800 16: 800 17: 800 18: 2249 19: 3769 20: 2441 
Graphics:  Device-1: AMD Ellesmere [Radeon RX 470/480/570/570X/580/580X/590] 
           vendor: Sapphire Limited Nitro+ driver: amdgpu v: kernel bus ID: 01:00.0 
           Display: x11 server: X.Org 1.20.11 driver: amdgpu 
           resolution: 1920x1080~60Hz, 3840x2160~60Hz 
           OpenGL: 
           renderer: Radeon RX 580 Series (POLARIS10 DRM 3.40.0 5.11.0-34-generic LLVM 12.0.1) 
           v: 4.6 Mesa 21.3.0-devel (git-fb5deb2 2021-09-10 focal-oibaf-ppa) direct render: Yes 
Audio:     Device-1: Intel Comet Lake PCH cAVS vendor: Micro-Star MSI driver: snd_hda_intel 
           v: kernel bus ID: 00:1f.3 
           Device-2: AMD Ellesmere HDMI Audio [Radeon RX 470/480 / 570/580/590] 
           vendor: Sapphire Limited driver: snd_hda_intel v: kernel bus ID: 01:00.1 
           Device-3: Corsair type: USB driver: hid-generic,snd-usb-audio,usbhid bus ID: 1-1.4:11 
           Sound Server: ALSA v: k5.11.0-34-generic 
Network:   Device-1: Realtek RTL8125 2.5GbE vendor: Micro-Star MSI driver: r8169 v: kernel 
           port: 3000 bus ID: 04:00.0 
           IF: enp4s0 state: down mac: d8:bb:c1:11:2a:46 
           Device-2: Intel Wireless 8260 driver: iwlwifi v: kernel port: 3000 bus ID: 05:00.0 
           IF: wlp5s0 state: up mac: f4:8c:50:42:67:79 
Drives:    Local Storage: total: 4.55 TiB used: 383.88 GiB (8.2%) 
           ID-1: /dev/nvme0n1 vendor: Crucial model: CT500P2SSD8 size: 465.76 GiB 
           ID-2: /dev/nvme1n1 vendor: Samsung model: SSD 980 PRO 1TB size: 931.51 GiB 
           ID-3: /dev/sda vendor: Seagate model: ST2000DM008-2FR102 size: 1.82 TiB 
           ID-4: /dev/sdb vendor: Crucial model: CT2000MX500SSD1 size: 1.82 TiB 
Partition: ID-1: / size: 227.98 GiB used: 62.95 GiB (27.6%) fs: ext4 dev: /dev/nvme0n1p2 
Sensors:   System Temperatures: cpu: 52.0 C mobo: N/A gpu: amdgpu temp: 47 C 
           Fan Speeds (RPM): N/A gpu: amdgpu fan: 763 
Info:      Processes: 414 Uptime: 22h 20m Memory: 31.28 GiB used: 5.21 GiB (16.7%) Init: systemd 
           runlevel: 5 Compilers: gcc: 9.3.0 Shell: bash v: 5.0.17 inxi: 3.0.38 

Thanks for any help