How can I factory reset Zorin Os without uninstalling and reinstalling it?
Unless anyone knows of one, I know of no Linux Distro that has a Factory Reset ability.
Any Operating System requires a complete "image" of the entire OS to do a Factory Reset. Essentially, a Spare Copy of the whole OS, perhaps placed on a separate partition.
Windows System Recovery works this way.
The smaller and simpler Android OS works this way. And you notice how both OS's tend to really hog up a lot of space.
Zorin comes with "Back ups" Deja Dup (Duplicity) that offers a very similar, if even superior in certain ways, software for making back ups- but it is not automatic. Some prefer "Timeshift" which is similar. It, too, is generally not automatic. But, they have settings to enable automatic function, so you can schedule back ups to take place, making them into automatic back up systems. I avoid these options- as they may automatically back up whatever it was that led to the need for a reinstallation in the first place. It's better to back up only Home Directory, in my opinion.
These backups can be setup to save to a Cloud, or an external drive/USB drive, rather than a partition of your own HDD or SDD.
Like many things in Linux, the user has control and does the thinking, and must take the initiative.
If you have reached the point of needing to reinstall, you can still make back ups of your personal data and files. Just do not back up the home ~/.config and ~/.local directories.
Let the forum know if you think you have a problem that requires reinstallation and maybe we can help troubleshoot it so that a reinstall is not necessary. Hopefully.
Please tell me the step by step method of how to reset Zorin using backups? I have installed Nginx and I wanted to uninstall it but it gives me an error that's why I want to reset all the system.
You cannot reset Zorin using backups- rather, you can reinstall Zorin, then use your back ups to restore where you left off… More or less.
Given that you want to restore to a point prior to the installation of Nginix, it would not make sense to back up System Files- which means that after reinstalling Zorin OS, restoring your back ups, you will still need to reinstall all the software you had that you had installed after installing Zorin OS up until now.
So it seems easier to remove Nginix… What error is it giving you and is this error preventing access to Zorin OS?
Did I say uninstall! I wanted to say Install and this is the error I get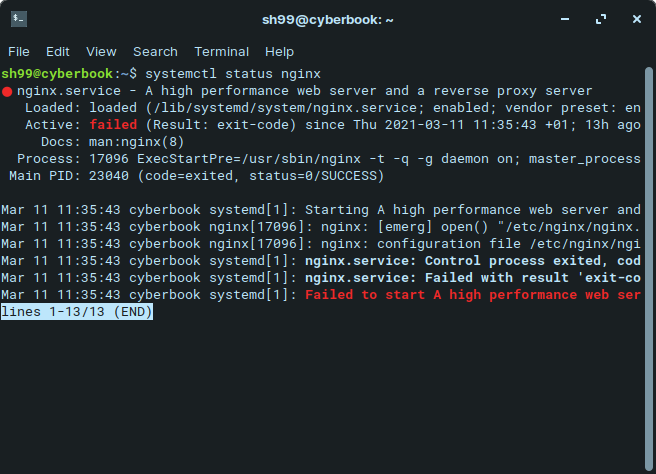 Maybe these will help:
Needs access to port