Yes that is true. I don't have a problems on Kernel 5.11.0-34. but I have problems on 15.3.
The only way to know is to try the kernel I guess, if it works, great, if not, role back, and activate a lock on further updates of the kernel in Synaptic, until you get word the kernels got fixed, then remove lock and update.
OK, its time to post my Screenfetch here...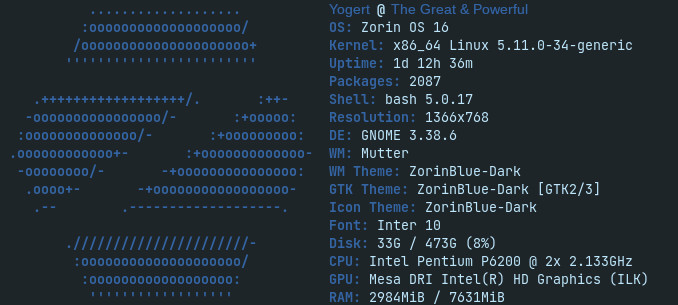 I think its crazy how often Zorin OS updates the kernel, feels like every week there is a new update.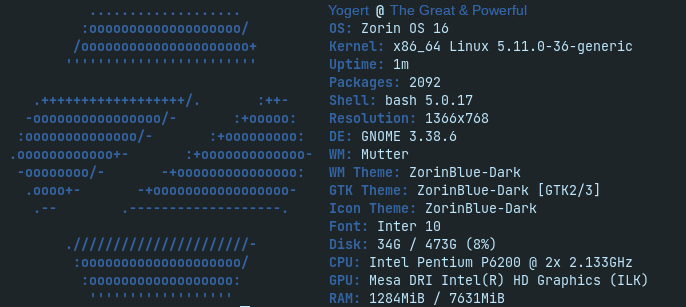 There was a recent incident regarding the 5.11.0-34 kernel. It makes sense that the -36 would be High Priority to be released.
5.11.0-36 not working for me perfectly. I will today format hard disk and will be again battle with drivers and black screen.
You don't appear to have 5.11.36 installed Bourne. My Zorin installation updated to 5.11.36, thats what I was showing in my screenfetch.
Hey guys, this is interesting. After the recent kernel update, and even after me installing some software, I've noticed a reduction in RAM usage today when I loaded up my Stacer.
Last time I posted a Stacer screenshot, I was at 2.9GB of RAM usage out of available 8GB of RAM, on my Zorin machine. Today its down to 1.8GB of RAM, and thats with the Firefox browser open.

I am not sure why, but awesome!
I hope everybody is feeling stellar today!



This is kind of a big deal for me, because this marks the very first video that I have ever made, for the Zorin forum. And this is also the first video that I have made, using Kdenlive, after the recent update. Its a bit of a learning curve figuring out where some things are lol.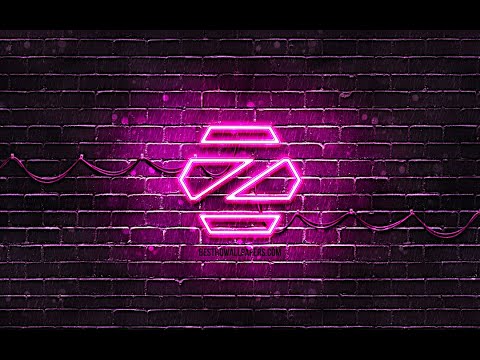 Nice YouTube channel name.

Thanks! Yeah you know, its kind of my theme in life as you know hehe.

I could have sped up the updating part of the footage, but too much work dude, for a video this simple, I was like, a couple edits, transitions, music, thats good enough lol.
Talking about the music, it was great.


OK, with all the talk lately from others, regarding updates breaking their systems, I thought it was a good idea to continue doing these thread updates. You guys just saw the big update I did yesterday in the video I posted as proof.
I started up my computer today, booted fine. And then my system wanted to institute another update today. Because kernel version 5.11.37 wasn't even a thing at the time I put locks on kernels, there was no lock, so it updated.
You'll be happy to know that my system was able to boot yet again, after todays update. Here is my new screenfetch!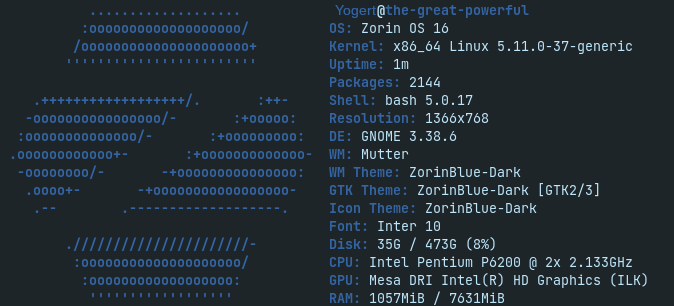 You guys may recall that I talked about how Zorin OS lets you know when your batteries are about to die. Well, there is another reason why this feature is awesome.
I keep my workstation plugged into the power brick. The cable has been plugged in ever since I started this journey on OS 16. What I didn't realize is, the cable was working itself out, and even though it was still in the port, it pulled out just enough to lose connection.
I got a notification that popped on my screen that my battery was low, and I had 7-minutes of runtime left. I was like, thats weird, why would it say that? I thought my power brick had just died, but nope, just needed the plug pushed back in.
So, yeah, excellent feature Zorin!
My boot from old PC just loading then OK and then Desktop it going so fast. Faster from any "Windows".
I have never seen that. I know that it's there but I've had my laptop shutdown many times of low battery. I've never seen it.
Thats strange. Are you telling me your computer just dies right in front of you, and you never see a battery low message? Cause I didn't get the battery low message until I had, well according to it anyways, 7-minutes of battery life left.
So unless you were there in front of the screen just before the computer died on battery, you wouldn't have seen the message I am guessing? It does show up as like a notification bubble, so maybe you have notifications off too IDK. All I know is, its worked for me multiple of times.
Plus the battery low notification is obviously going to function based on battery sensor information. IF you don't have working sensors, your system can't provide you that feedback. Do you have LM-Sensors installed?
That is a dependency that must be installed before even the Psensor APP can work. Anyways, stuff for you to look into when you have the time.
I think the problem is with the battery. When I replaced this battery with the old and weak one, my laptop faced many issues related with battery on both windows and Linux (Zorin15 and Solus Budgie) like wrong battery percentage. But somehow a fresh install of Zorin OS 16 fixed the percentage issue(at least, it looked that way). But now after the laptop shuts down after battery being completely drained, if I switch it back on it shows it something around 60%(this happened like 15 minutes ago when I was attending my class). I have seen like 2% on situations like that, but only like a single time. Also if I enter acpi command when I am not charging and charging my battery I get this output.
jeslin@jeslin-Satellite-L510:~$ acpi
Battery 0: Discharging, 66%, 01:06:54 remaining
jeslin@jeslin-Satellite-L510:~$ acpi
Battery 0: Charging, 64%, 00:38:58 until charged


Here, I believe Battery 0 is supposed to mean battery is not charging and and Battery 1 is supposed to indicate that battery is charging. But for me it stays the same even if I charge my laptop. So I believe that the problem is with the battery and it would be better if I get a new battery.
I've had a lithium battery go bad like that before. But lithium batteries can also do strange thing with the sensors, as they get readings from the bms.
One thing you can try is, pulling the plug, and letting the battery drain all the way dead. Now don't leave it dead for long, lithium batteries don't like that.
Plug the notebook back in, but do not turn it back on. Let the charger charge the battery. Then power on your system once the battery is charged. All notebooks in my experience have phyisical LED's indicators of that.
Because my notebook is 2021 modern, it does a very cool thing with my battery to help extend its life. At times I will see the battery at 100% after charged, but other times I will see the battery at 90%, with the cable still plugged in. Know what that is? Would you take a guess?
This is a fairly new feature being implemented, just as its bad for lithium batteries to sit dead for a long time, its also bad for them to be stored at 100% all the time, it destroys their longterm lifecycle.
My computer monitors my batteries voltagem and health. And at different intervals, it allows the battery to go down to 90% but usually no further. This extends the longterm battery life, so I dont' have to worry about unplugging it all the time.
Cool stuff right?
Okay I will try that later. Can't do that right now because I am attending a class lol.