Can I install Macrium Reflect to load .MRBAK files on ExtHDD created by my WinPC?
No, you cannot. Macrium Reflect is a Windows backup and recovery software.
On Linux you can use Rescuezilla.
https://rescuezilla.com/
Anyone know how large a flash drive do I need to store Rescuezilla on ...
I love the fact it is on a Flash drive and not stored on my computer .... can find no info on their website .... I looked .... LOL
Thanks
Frog, by large - do you mean the iso file or after installation?
The ISO file for my thumb drive .... I will be saving to a 1TB external drive ...
Here is the link from where to download it's approx. 904MB.
Thank you sir .... so a 4GB flash drive should be fine
Yes, it should but you will have to make it boot able, but I guess you already figured that one out.
LOL ... yea now to get Rufus to work for me I have only ever been able to use etcher before when installing Zorin 16 & Pro .... not sure why as most people on here hate it .... rufus would do everything but shortly into the download it would just stop ....
It physically destroys USB drives so they no longer work
There is a topic to find why to avoid using etcher. But if you search the forum there a some alternative which you can use.
I believe the one most appreciated here is "ventoy" I've downloaded it but haven't used it yet.
Well I guess that is a darn good reason to avoid it .... guess I be trying Rufus again .... got 5 new flash drives on the way 16GB each and I sure don't need them scrambled they are all SanDisk Cruser Blades ... love those little buggers ... LOL ... and these are all in different colors ... LOL
Thanks I'll take a look at Ventoy .... if I can't get Rufus to work .... I did get it to work a couple of times so it has to work ....
Hummmm couldn't find rufus in my saved folders from Win so I search Synaptic ... not there ... went to web and downloaded it but when I tried to open it I got this message .... is it safe to use or not ???? ...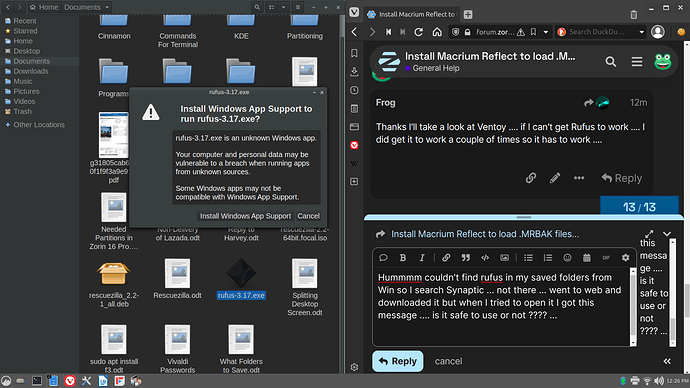 Frog, I wanted to ask you how you got rufus to work on Linux. But seeing the print screen, you haven't yet.
Yes the Windows app Support is used to install the exe files, but I don't use it because I don't install exe (Windows) files on my pc, only some games that is while using Wine.
So to tell the truth I haven't used rufus on Linux and I won't not be able to assist you with the procedure if something might go wrong. Perhaps it's better if you try the ventoy app, it let's you install several iso's on one usb (if it's large enough) and even windows iso's.
Thank you for your help .... I don't want any windoze ■■■■ on my computer either that's why I posted that picture .... I'll give ventoy a try ... I'm dual booted with win but I only open it when it is an emergency .... you've been a big help ... off to find ventoy ....
Rufus = M$
Popsicle , Ventoy= Linux
Thank you Bubby that explains it as to why it ain't on Synaptic then .... LOL ... I'm gonna give ventoy a shot or at least look at it to see if I can understand how to use it ....

Well I'm back .... PLEASE don't ban me from the board but I had to go back and set up rufus on Win ....




.... I'm so ashamed and it took forever as I had forgot a lot of how to do stuff over there .... but here is the good news ... ta da ....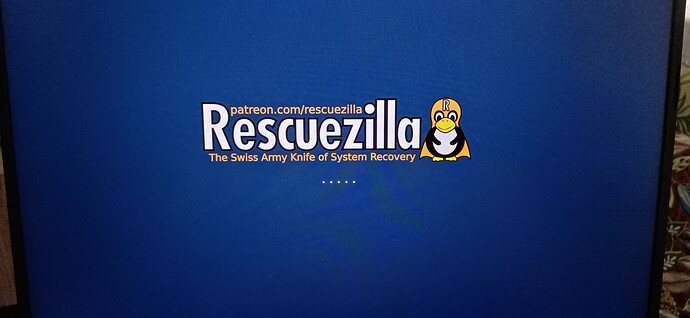 Sorry dasjdoom .... that Ventoy was to difficult for me to grasp this late in the day ... maybe some other time ....
Note: You can get Unetbootin for Linux as well as Windows.