I Love Gorillaz. Great range of varied talent as Gorillaz brings in some pretty unexpected but effective performers at times, too.
Two things I've noticed here, animated wallpaper with a Michel Jackson sounding tune. And I also noticed some Wobbly Windows.
The weird thing is, I remember having Wobbly Windows back in Zorin OS9, then I didn't have them anymore in OS12. And for some reason, Wobbly Windows doesn't work in POP OS, even though its supposed to have them.
EDIT: OK, I did some new research, and discovered, that I am not the only one who has had trouble, getting Wobbly Windows to work. As I am sure many of you know, you have to use extensions with Gnome to get it to work. But the normal extension just doesn't work for whatever reason.
For those of you who don't have Wobbly Windows right out of the box, search for Compiz Alike Wobbly Windows, as seen in my screenshot. You can adjust the Wobbly Window effect to your liking in EXTENSIONS once installed.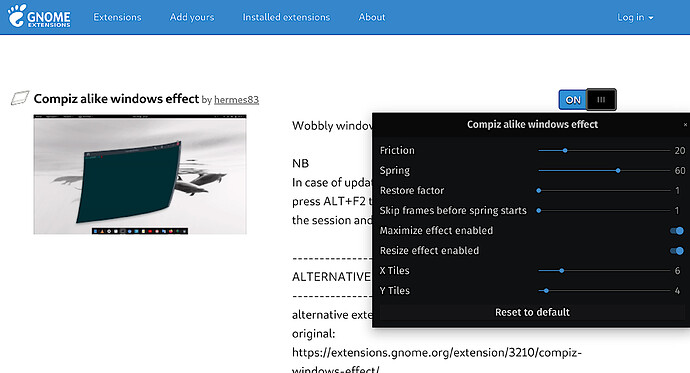 I feel like the universe is in balance once again, now that I have my Wobbly Windows back.
This topic was automatically closed 90 days after the last reply. New replies are no longer allowed.