Hi, is there a latest mac os theme for zorin os? Like big sur?
Not pre-installed, however you can install a theme by downloading it and then extracting the .tar.gz into your /usr/share/themes folder or ~/.themes folder.
Icons go to /usr/share/icons or ~/.icons.
Fromyour Zorin layout settings, you can change the titlebuttons from right side to left side.
How do I change the theme? Should I install gnome tweaks to do that?
-Facepalm-
I am sorry, I keep forgetting that gnome exists.
Yes, you should install Gnome-tweaks
sudo apt-get install gnome-tweaks
Just now found this. Is this any different from the above ones?
Without inspecting each theme, I couldn't tell you…
Why not just grab each one of them and throw them in your themes folder and try each one out?
That's what I do.
I also mix and match.
And I make my own. (In fact, I am in the middle of making one right now as I type this. )
NB. You can also find Gnome Tweaks under "Software" on Zorin, if you prefer not to use Terminal to get it.
Would you like to share your theme? I would like to try it.
Sadly, I no longer make any Gnome Themes. I make XFCE, Cinnamon, Mate. I make gtk3 themes, but the CSD borders in Gnome are incompatible.
On special request, I am willing to convert one into a Gnome and Gnome Shell theme. If I am in a good mood.
I always share the themes I make. Well… usually always… But they are not MacOS style. Easily found by searching "aravisian pling" on the web. That will take you to my profile products page.
The one I am currently making is still a couple weeks out from being ready for release.
This current one is a Red and White color theme, while retaining Dark Theme features within.
Here is a sneak preview of the icon set: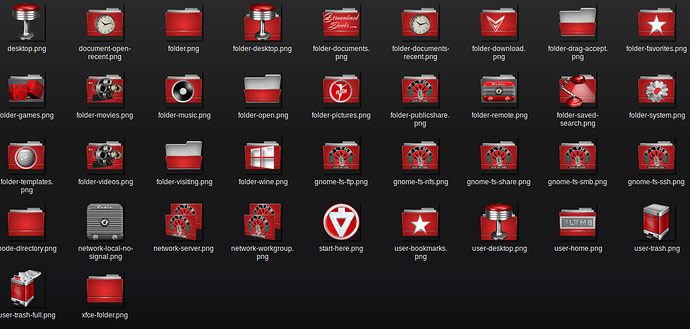 Another option for Mac theming but you need to install KDE Plasma first:
Greetings Capri,
Do absolutely what you want to your Zorin, don't mind me, but I used Mac OS for 29 years straight. Switched to PCs because the value differential between Tim Cook's Apple and Satya Nadella's Microsoft was gone.
Yes, at first, I wanted my PC to be like a Mac. But over time it became clear that replacing your old girlfriend with a new one that is really similar is… boring. So I decided to let the new 'girl' show what she could do.
Yes –
Installed a 'hot corners' app (HINT TO LINUX)
Yes I installed an app to move the taskbar to the center
… and yes OH yes I did I take the Windows Recycle bin off the desktop (It hides in my Start Menu)
But a funny thing happened. Now as I play with Linux I tried having a dock again in Ubuntu Mate. It was fun to have that old friend back, but really a slim panel works better for me.
In Zorin Core I use the 3rd 'look' of Zorin, which is panel with apps centered and an Ubuntu app drawer. And I hate to admit I really like that purple mountain photo enough to be in no hurry to replace it.
BUT I WILL ADMIT
that when I switched from iOS to Android I really didn't like the Android paradigm. Keeping your phone screen clean of apps and hunting and finding them in the app drawer? Yeah… NOPE.
I basically converted my Droid to have my iApps in the same places because of muscle memory. It took about two months to remove the Mac-like icons and choose my own.
Hi, for your information, Hot Corners was out awhile ago in Pear Linux,
https://vimeo.com/user15592214 (no hot corners in the video I'm afraid but they were there!)
sadly no more, and one of the members of the old forum designed a hot-corner app, Colorwheel. Oh yes and those Hot Corners in Windows 8/8.1? Designed by 2 Canonical defectors to M$!
Oh and xfce plugins: