Hardware is a Lenovo ThinkCenter m73 tiny with A 1tb drive. Detailed specifications for ThinkCentre M73 (Tiny Form Factor) - Lenovo Support CA
Originally running a single partition with Windows 11
Booted ventoy disk, installing secure boot certificate when prompted, booted the Gparted live d iso from ventoy
Used parted to shrink volume, create new NTFS one at end of disk
opened command line in the parted os and used mv to transfer a media folder to the new partition. Rebooted because disk was locked by booting ventoy then booting parted live. Then shrunk windows partition to 100gib, leaving 100gib of free space between the windows partition and the media partition
Booted ventoy to boot the zorin os 16 core live cd.
Chose the "install with windows option" and zorin os automatically chose the 100gib of free space to use as boot drive.
Enabled third party drivers and set a password needed for the drivers. Set up an account and password. Finished install
Removed USB drive when prompted and rebooted, got a secure boot certificate screen and clicked past it, then got the Zorin OS installed boot menu and chose Zorin OS from the menu
Zorin OS froze with the Lenovo logo and hexagon Z on the screen.
Forced reboot and disabled secure boot in settings. Zorin OS froze again
Forced reboot and booted windows. Windows runs fine.
Rebooted and run Zorin OS with the older kernel and safe mode. Boot keeps hanging at "[ok] Reached target Local Encrypted Volumes"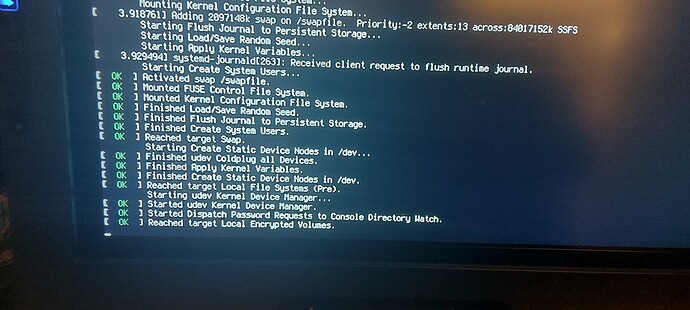 I can't seem to get past this. I did get another line to show up about not finding drivers for the USB Bluetooth device (which wasn't present during install) but I unplugged it and no change.
What troubleshooting steps should I take next? Thank you.