I see there are some issues with Zorin 16, especially sound; I'm reading through some at the moment. I have recently installed Zorin 16 Lite on my old Dell Vostro 410, which has just chalked up its 13th birthday; dual-booted on a 500GB drive with Windows 7 (which runs offline) on a separate drive.
However, I cannot encourage it to put forth any sound. The sound previously worked fine under Zorin 15 lite.
I have checked for muted settings and cannot see any. The Sound setting chart shows "live" sound because the bar is actively fluctuating up and down, so it is seeing something, but I am not hearing the output, either on headphones or on speakers. Primarily I am trying to listen to sound from the Internet.
Inxi output: attached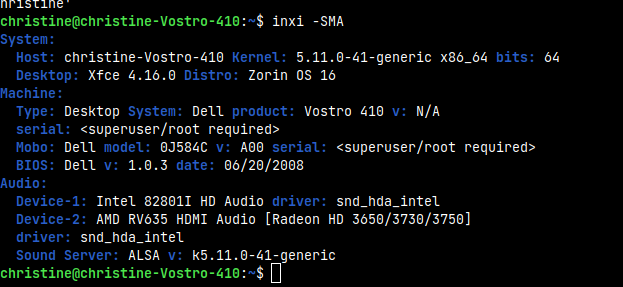 If not resolvable I might put it all back to Zorin 15 again.