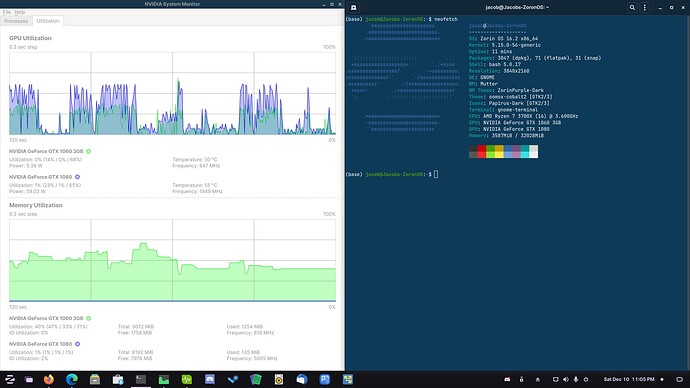 I have a dual GPU Desktop running Zorin OS with one monitor connected.
I was trying to get display out of my 1080's HDMI port as unplugging and plugging up my HDMI cable connected to my monitor would result into a black "no signal" screen. I was already getting display on my one monitor from my 1060. However, I was getting poor game performance out of my 1060 so I did some tinkering to try to get my 1080 to display. After many reboots, nothing was being done automatically even if the system booted with an HDMI cable connected to the 1080. After the system booted though, I could always plug into the 1060 and get display. In attempts to get my display working,
TLDR
I used this command,
sudo prime-select nvidia
in ill hopes that I would be able to get display output out of my 1080.
Both cards are now in a type of hybrid mode and the performance dropped through the floor, even in the desktop environment. I now cant find a way to disable this prime mode and now, none of my games and AI stuff using anything CUDA (all my cuda tasks need 4GB+ of VRAM) will work.
If anybody knows how to disable or uninstall this feature, please let me know!
But hey, all my files are backed up on syncthing and another disk. I am not opposed to nuking my install.
What I have tried,
-sudo prime-select intel
I do not have integrated graphics, this resulted in a black screen but I could still use hotkeys to open a terminal and run prime-select nvidia and reboot to get display back.
-sudo apt-get remove --auto-remove nvidia-prime
this did nothing, to my eyes anyway.
The attached picture is representing the fact that my 1080 is being used as display out but, none of its ram is being used. I am only using 1 monitor, the 1060 should be drawing 5 to 3 W as there should be no load on is as it is not connected to a monitor.