Well my reinstalling Zorin 16 Pro using Rescuezilla went extremely well UNTIL I tried to update NordVPN using the terminal ..... I went online and found these instructions .....
"The only exception for automatic updates is NordVPN's Linux app. If you're wondering how to update NordVPN for Linux, simply run these commands:
sudo apt-get update
sudo apt-get upgrade
sudo apt-get install nordvpn
Once done, you will have the latest NordVPN version. "
First command went well no problem ..... as far as the "sudo apt-get upgrade" not so good ..... first off it took 43 mins to complete and filled 43 pages of 12 pt type .... I should have known something was wrong but to late to stop it once it got started .....
The third command worked fine and NordVPN was installed ..... HOWEVER .... I noticed that my Bluetooth keyboard was disconnected ..... and it took forever to get it connected again ..... I seemed to have a big problem using the terminal to load certain programs mostly telling me I didn't have permission ...... even though I used sudo ..... it gave me some suggestions but when I copied and pasted these suggestions .... as I have done in the past ..... in the command line these didn't work with no further suggestions .... there were other problems but to numerous for me to remember ....
When I got up this morning and opened Zorin it took 4-5 mins. to load to the sign-in screen and it was totally different that the normal Cinnamon sign-in screen .... sign in box was completely different .... didn't take a picture .... and the background had changed ..... signed in and again took several mins ..... my Bluetooth keyboard didn't work again and my wallpaper I used yesterday had changed .....
Moral to this sad story is I believe I messed up by doing that "sudo apt-get-upgrade" ..... but no problem not going to spend days trying to find the all problems ..... I have all the tools handy to wipe .... and install Zorn from Rescuezilla again and everything worked ..... this time I will NOT do the "sudo apt-get-upgrade" .....
By the way I use Windows and Macrorit Free Partition Software ..... to completely wipe a HD as I've had problems in the past trying to format an OS while I was using it .... I find it much easier than gParted but that's just me ....
I'm off to install Zorin 16 Pro from Rescuezilla once again ....
Here is another problem I just thought of .... I can't change my NVIDIA drivers I get this message .....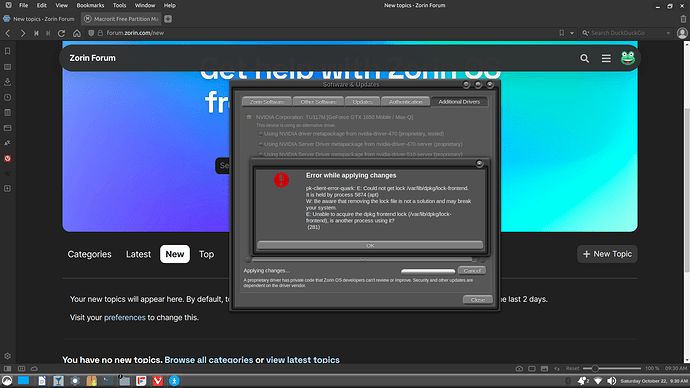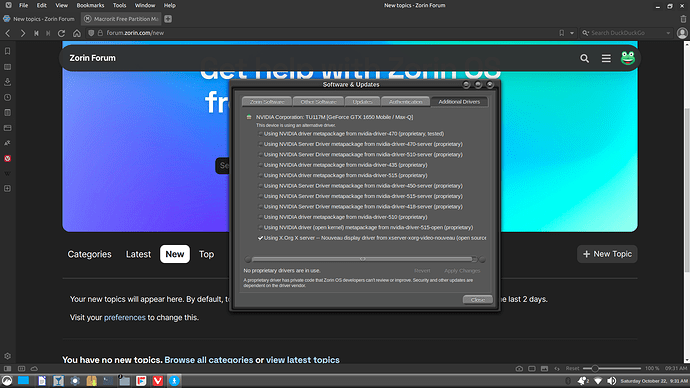 And another one terminal command ....