Hi !
I'm new to Zorin (Pro version), and I'm getting back on Linux. I did use Slackware, Debian and Red Hat Linux (not named Fedora in the '90 and start of 2000).
I'm working on an iMac 2013, restored with a new NVMe SSD.
I wanted to try the proprietary NVidia driver for my card (GTX 775M), but I'm having issue with the driver. Nothing terrible, but really annoying.
I would like to revert back to the X.org drivers, since it was better than what I see with NVidia.
The problem is that I installed manually the NVidia driver, following instruction in a forum. Now I'm unable to return to X driver.
See the screenshot below: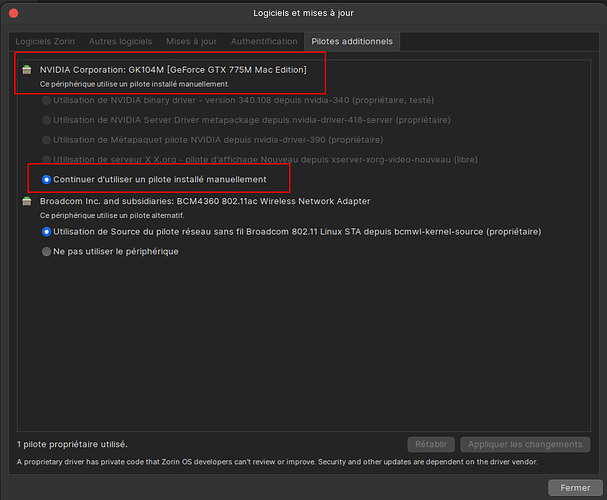 I did try to uninstall the NVidia Driver, and run into serious problems. There was a problem with the package removal with apt, and at reboot I was unable to log in. My guess is that it did'nt found the driver, and was also unable to revert back to X.
I went into a "try Zorin from USB" session to correct the problem and go back to NVidia. Painfull, but it worked after some hours of research.
So now my question is, how can I go back to the X driver without pain ?
Or, if someone had experience with the same graphic card as me, which NVidia driver to choose, and settings to get rid of problems like zone of the screen all messed up, police unreadable after sleep mode, etc...
Thanks in advance, and bravo for this nice distribution ! It was my choice because of the possibility to make it look like the macOS interface in a minute.