use GPU Screen Recorder and upload it via Youtube, that what I do.
I will also recommend Simple Screen Recorder, since it's, well, simple and easy to use (and the only one I know, really).
Removed due to possible controversy .....
That's not the one that I was thinking of although is always good to learn about new alternatives.
https://www.maartenbaert.be/simplescreenrecorder/#download
EDIT: The one you linked to looks quite good, being able to annotate things and highlight without having to edit the screenshots separately is a big plus, although it's not clear if you can also do the same with videos (that would also be fantastic).
On the other hand, they seem quite pushy about creating an account in order to be able to make recordings longer than 5 minutes, and it looks like they're uploading content to another video platform of theirs by default.
That's still a generous free offering but I'm not a big fan of that type of stuff. There's also no source code to verify their claims about privacy and security... we had a recent discussion about installing software from untrusted sources.
Note that I've just taken a quick look so I could be wrong.
Quick catch .... thanks for pointing that out I don't ever want to mislead someone with a download that could be harmful ..... I removed the post and link and downloaded the correct apt ....
If you are using Ubuntu 17.04 or newer, SimpleScreenRecorder can be found in the official repositories. You can install it with:
sudo apt-get update
sudo apt-get install simplescreenrecorder
Outthere


ZorinOS 16.3 Pro
Valyrian GTK Theme
Avidity-Total-Dusk-Suru Icons
Galaxy Wallpaper
Big Sur Status Area Extension
Neofetch

Very simple and elegant ..... great job ....

Apple Store


ZorinOS 16.3 Pro
WhiteSur Light Nord
McMojave-circle-grey / Kora Grey Icons (Personal mix)
Grayscale Photography of Apple Store Wallpaper
Light Flair Clock Conky Widget
Big Sur Status Area Extension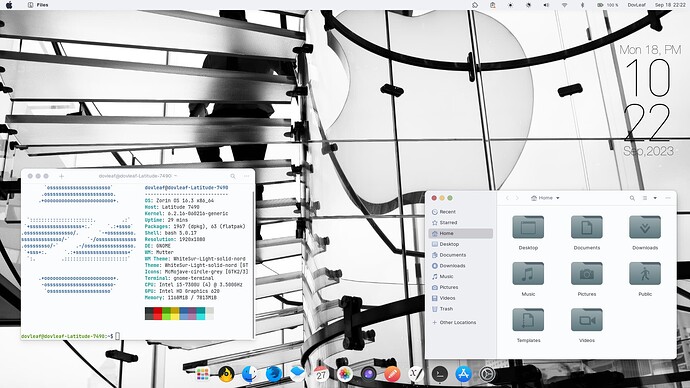 I like the way the dock icons in colour stand out from the clean monochrome desktop. nice.
Zorin may be my favourite distro so far, but something I liked more about linux mint was the cinnamon desktop, so I installed it on zorin