CPU: AMD Threadripper PRO 5975WX 32-core
Mobo: ASUS Pro WS WRX80E-SAGE SE WIFI (Latest BIOS and firmware)
GPU: MSI SUPRIM X 3090
RAM: 128GB
3 x NVMe (2TB, 4TB, 4TB) Windows 10 21H2 Enterprise is on the 2TB drive.
1 x 1TB SSD <--- Target for Zorin PRO OS
Note: I intend to install this on the 1TB SSD drive, but NOT dual boot. When I want Zorin I will boot to it directly through BIOS.
All checksums on the install media have been verified multiple times. I have used Rufus and balenaEtcher to write multiple USB's. I opened a ticket with Zorin support and they are unable to see a solution. They suggested I post here.
On boot, my USB mouse / keyboard wakes up (plugged directly into the rear of the mobo) and I press F2 for BIOS. I boot from the Live USB and select the normal install. I see this:

There is a third revalidation line at roughly 128 secs, but it goes by very quickly as the logo screen appears over it. After several minutes, the logo disappears and I see dozens of stdin errors followed by "Attempt interactive netboot from a URL?" but the keyboard and mouse are dead. I plugged in another USB KB at this point, but it was not detected and also dead. I've used both KB successfully with Ubuntu / Mint previously. I have the same issue with the Mint Live USB as well.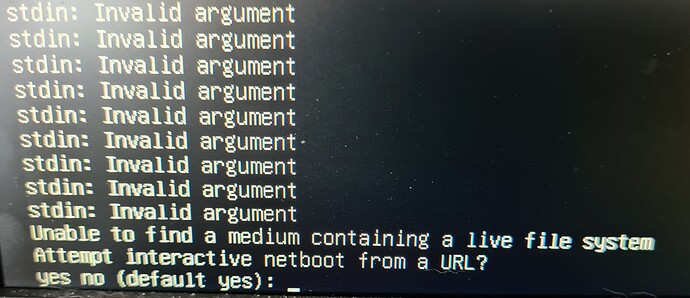 So I cannot get past this point in the install. Other modes selected on install gives the same symptoms. Looks like a USB driver issue, but not sure how to get past this point.
Tried turning off XHCI Hand off on the mobo, but got the same behavior.
Changed AHCI to RAID, same issue. Mobo is default settings, no OC and nothing special for setup.
Tips appreciated. Anyone here have the same hardware setup?