Hello everybody!
Me and Aravisian have been working on a small project...
TIT
TIT is a terminal emulator written in JavaScript. It is designed to be able to run on any device with a webbrowser and can even work offline and as a PWA.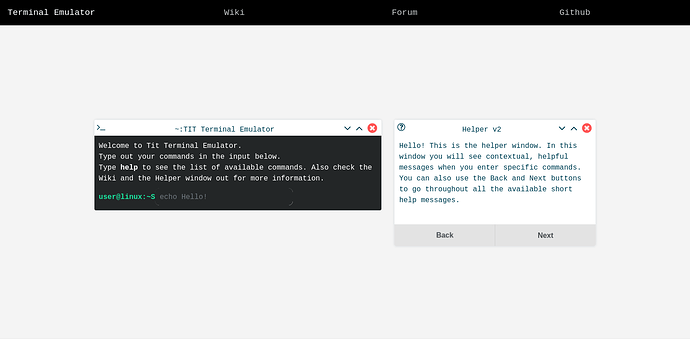 TIT is meant to be an easy and accessible terminal emulator for those wanting to learn the Linux Command line Interface.
You don't need to have Linux installed! TIT runs on every OS!
Alternatively you can use it as a playground to mess around without the fear of damaging your computer!
Also check out the wiki which includes tutorials on how to get familiar with the terminal, contribution guides, name origin

, and more!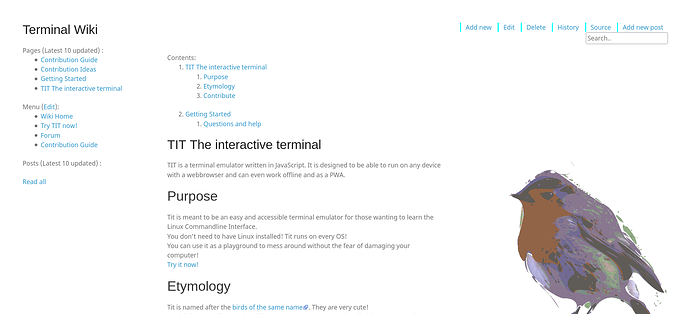 Tit is a free and open-source project. At the moment of writing, it is not complete. There are few commands available, and the size of the wiki is small. Tit is meant to be a community driven project. We are hoping that community members could contribute to the project and make it more complete. There are many ways you can contribute to the project! Contributing to the project is very easy and streamlined and does not require coding knowledge. Check out the
Contribution guide
.
Many people fear the Linux terminal (Including me
). TIT is meant as an interactive and fun learning tool that helps people to quickly get the hang of the CLI.
That's why I'm reaching at to the wonderful people in this community to get more help on this project and push it to completion. TIT is a community driven project and we need your help!