I recently bought a used laptop, but its touchpad is not recognized, so it does not work. I looked for touchpad in lshw and cat /proc/bus/input/devices but could not find it. This touchpad is entirely clickable, and to tell the truth, I don't know how to use it well.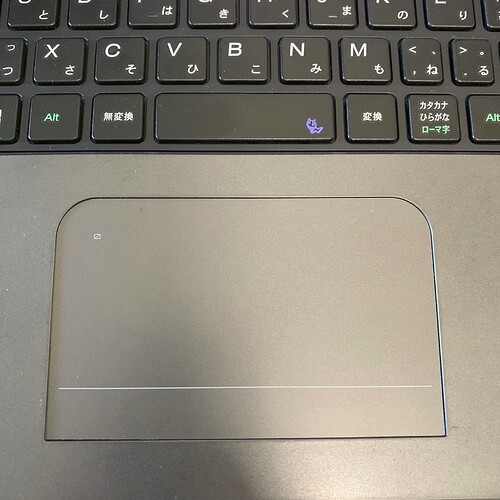 What should I do? I use a trackball most of the time, so it's not a serious problem, but sometimes touch gestures come in handy.
$ inxi -b
System:
Host: hgyamada-Endeavor-NJ3900E Kernel: 5.15.0-53-generic x86_64 bits: 64
Desktop: Gnome 3.38.4 Distro: Zorin OS 16.2
Machine:
Type: Desktop System: EPSON DIRECT product: Endeavor NJ3900E v: 1.0
serial: <superuser/root required>
Mobo: PEGATRON model: NJ3900E v: 1.0 serial: <superuser/root required>
UEFI: American Megatrends v: AP4U-0705-GA7 date: 09/14/2018
CPU:
Dual Core: Intel Core i3-4100M type: MT MCP speed: 1077 MHz
min/max: 800/2500 MHz
Graphics:
Device-1: Intel 4th Gen Core Processor Integrated Graphics driver: i915
v: kernel
Display: x11 server: X.Org 1.20.13 driver: i915 resolution: 1366x768~60Hz
OpenGL: renderer: Mesa DRI Intel HD Graphics 4600 (HSW GT2)
v: 4.5 Mesa 21.2.6
Network:
Device-1: Intel Centrino Advanced-N 6205 [Taylor Peak] driver: iwlwifi
Device-2: Realtek RTL8111/8168/8411 PCI Express Gigabit Ethernet
driver: r8169
Drives:
Local Storage: total: 119.24 GiB used: 9.76 GiB (8.2%)
Info:
Processes: 212 Uptime: 5m Memory: 3.75 GiB used: 1.32 GiB (35.1%)
Shell: bash inxi: 3.0.38
Below are the important logs at startup.
10:40:57 pulseaudio: We were woken up with POLLOUT set -- however a subsequent snd_pcm_avail() returned 0 or another value < min_avail.
10:38:39 kernel: usb usb3-port5: unable to enumerate USB device
10:38:38 kernel: ACPI Error: Aborting method _SB.PCI0.XHC.RHUB.SSP4._PLD due to previous error (AE_AML_PACKAGE_LIMIT) (20210730/psparse-529)
10:38:38 kernel: ima: Error Communicating to TPM chip