Hello Everyone!
I'm trying to boot my Windows 10 partition on my SSD while loaded on Zorin16. The two OSes are currently set to dual boot on the same internal SSD. I read it's possible with the three popular virtualization methods: Virtual Box, VM Ware, and QEMU/KVM.
Method 1:
I tried the first one with instruction from Virtual Box here under 9.7 Advanced Storage Configuration: 9.7.1.2. Access to Individual Physical Hard Disk Partitions.
I am trying to follow the instruction to generate a, "special image for raw partition support, which will contain a small amount of data, on a Linux host, using the commands:"
$ VBoxManage internalcommands createrawvmdk -filename
path-to-file.vmdk -rawdisk /dev/sda -partitions 1,5
My Win10 partition is sda5.
However, whenever I try to execute the commands, I get this:
~$ VBoxManage internalcommands createrawvmdk -filename /home/kevin/Documents/physical-sdc.vmdk -rawdisk /dev/sdc -partitions 1,5
VBoxManage: error: Cannot open the raw disk '/dev/sdc': VERR_FILE_NOT_FOUND
VBoxManage: error: The raw disk vmdk file was not created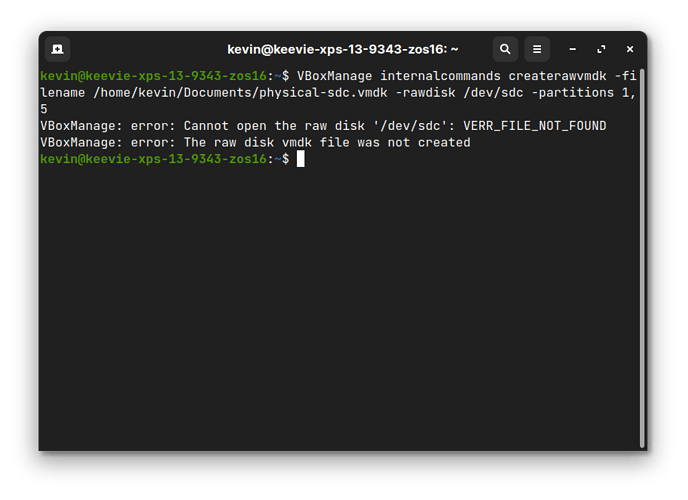 Method 2:
I've also tried VM Ware Player, but, it required "Administrative" access to add the partition sda5. Otherwise, unless loading VM Ware with sudo, I'm unable to see the SSD as a selection device and pick partition sda5.
I got to the point of booting up superGrub ISO, but couldn't move past to boot up Windows. I'm also not sure I would want to superuser each time to load Win10 VM Guest too.
I followed instructions here, however, it's for booting Ubuntu as Guest VM.:
Method 3:
I read this person did it under QEMU/KVM, but it seems to be a fresh installation of Windows and Ubuntu. I need to keep my files in the Win10 partition. The instructions are a bit complicated for me too.
https://k3a.me/boot-windows-partition-virtually-kvm-uefi//KVM
Have anyone boot Windows partition as a Guest VM on Zorin or other GNU/Linux Host?
I wish to keep dual boot setup and have things done in Guest VM to save to the Win10 partition. This is in case something happens to my Zorin partition, I'll still have the ability to boot into Win10.
I considered and tried VM virtual disks the last days or so, but, it seems the system response is quite slow and I have trouble with getting SuperDisplay to work under the VM Guest as virtual disks.
There seems to be issues with the VirtualBox-Guest Additions virtual graphics OpenGL driver in working with DirectX. The 2nd display on Android complains about GPU driver issues on the Win10 VM Guest. Possibly because the drivers aren't signed. Maybe loading Win10 directly as a raw disk will help with the system responsiveness and SuperDisplay issue. I still have been unable to get Android Devices as 2nd Display Extended Desktop, not mirroring, to work natively on Zorin OS 16.
Thanks!