Hey guys,
I'm fairly new to Linux in general and someone gave me their old laptop so this is my 2nd Zorin install. It was password protected on Windows 10 so I just went ahead and did the full install after swapping out the HDD for a SSD.
My problem is it randomly loses resolution and the colors drastically change. Sometimes it goes back to normal after a few minutes but it always get corrected if I put it to sleep and wake it back up. Since I didn't get to use it with Windows, I'm not sure if this was a preexisting problem or not. It usually doesn't start doing it until 10 or 15 minutes of being on and sometimes it won't do it for hours of usage.
Are there any things I should be looking for? It's a decent laptop and is perfect for my uses but it's extremely frustrating. I tried to screenshot it last time it happened but the screenshot came out perfect so It may be a hardware issue.
Any ideas or suggestions would be great and I wouldn't be too upset if I end up having to replace the screen if that is the likely culprit.
I did clean out all of the dust and cat hair it contained and it barely runs warm so I'm not thinking it's a heating issue.
Here are the specs of the laptop: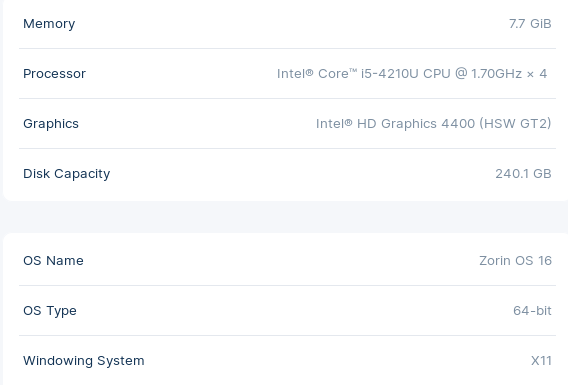 It's an HP Elitebook 750 G1.
Thanks,
James