Ok so i have small brain, can you explain what's efi mode? Should have asked u sooner.
I thought you new it already

It is how you set your m/b BIOS.
EFI mode = non-legacy mode.
How to set it depends on the particular m/b, but in my desktop, I have to disable CSM (Compatibility Support Module) to enable EFI mode.
Ouh i have a computer with uefi wait. Um help i fried my monitor. So i think its dead. I need to find another monitor i guess we have couple laying around
@FrenchPress very bad news since this pentium r machine was my only pc with a uefi i dont think i can get u the results. My acer monitor died cuz i broke the cable a must have short circuit or smthg.
Is there a way to like emulate having a UEFI? I got an idea, I can move my TV
I have never experienced monitor got broken by the cable.
It is more like the cable is broken and you got no signal, no?
I thought the machine of that vintage was legacy-BIOS only.
As far as I know, it is not possible.
I am extremely busy at the moment but I will check out Popsicle myself when I got time.
Thanks for your cooperation and I hope that the problem is with your cable not the monitor.
Great News it works, I ran sudo efibootmgr and the output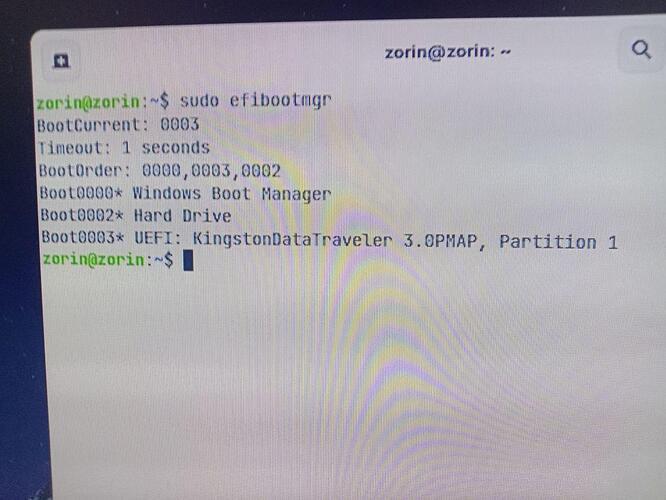 Picture of my TV
Keep in mine even though I said mine there basically not mine, there my parent's so...
can you boot into Zorin live session from there?
Yes I can everything works normaly, I've also added a 120GB hardrive and the installation is slow like normal but works perfectly fine. Now I just need to carry the TV upstairs I guess, good thing my parents are asleep. And also my TV produce very smelly plastic smells!!!
OK.
Thanks for reporting.
Popsicle seems very promising, like many apps made by System 76.
Rufus, in windows, does produce a bootable live image on usb. I used the latest rufus, chose gpt and iso write method (not dd). It placed it in an ntfs partition, without option to change. It booted though.