Hi. I'm using ZorinOS Education Lite edition.
It's been great until suddenly, the mouse cursor is replaced by this x-symbol.
(I also noticed file explorer windows are now missing their top part).
(See screenshot at bottom).
And now there's various other problems:
I can't maximize windows.
Sometimes I can't move or resizeshortcuts windows at all.
And if I can, it's very slowly.
My shorcuts for tiling or hiding windows don't work.
File Manager/File explorer windows are always on top
I can't alt+tab.
Firefox browser window now has a weird grey border that covers file explorer.
I can't even name a screenshot file.
I can't even click on the 'post/submit' button in ZorinOS.
How do I fix this??? Please help. I like ZorinOS, but it's kind of not-usable right now…
Screenshot: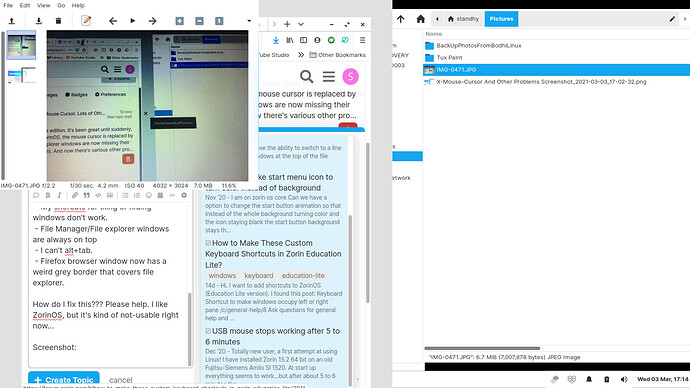 P.s. The x-cursor is in that phone-photo.
I had to take a photo of the x-cursor with my phone, and then take a screenshot of that pic on my computer because the photo was too big.