I just installed the Pro lite Version but Zorin Connect is not available among the apps!?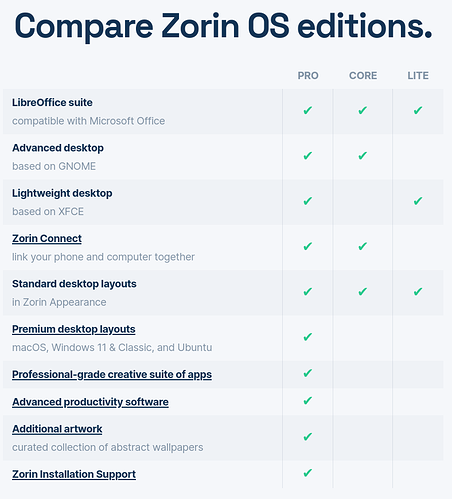 Please note that the Lite versions do not have Zorin Connect
and this is not because they hate Lite users, but because there is no good KDE Connect integration for the XFCE desktop that the Lite edition uses.
This is not the case, at all.
The reason is because the Zorin Connect app is based on GSConnect - a Gnome Shell Extension.
I have been using KDE Connect on Zorin Lite since Zorin Connect was first introduced and it works flawlessly.
I am using it now.
sudo apt install kdeconnect
If you have the UFW enabled, you will need to add exceptions for the Connect App:
sudo ufw allow 1714:1764/udp
sudo ufw allow 1714:1764/tcp
sudo ufw reload
Thank you! I thought the Pro lite version would make an exception to the simple lite-version.
Thank you! I'll try to follow these steps. Great work to help an old linux-newbie!
yeah that's what I was trying to say, in a way at least.
I was assuming that at the time of including their Zorin Connect app, they simply didn't find a good XFCE counterpart which is as well integrated with the desktop and thus, skipped it
Though, i want to also add that I don't see Zorin Connect = KDE Connect when people ask for it, just because Zorin Connect is based on KDE Connect doesn't mean it's the same, nor did the Original Poster ask if there are alternatives.
Under the hood... There are some differences... I have yet to find if they make any difference, though. I had assumed they might, only to find they made none, before. Assumptions... What they amount to in the end...


But from the user experience, aside from a different icon, it is exactly the same.
We can and do recommend KDEConnect to Lite users.
I never tried to say we couldn't recommend KDE Connect to lite users, though?
This topic was automatically closed 90 days after the last reply. New replies are no longer allowed.