After using this newly installed Zorin 16.3 Core System, it seems that when I set applications to autostart (via an ~/.config/autostart entry), the icons no longer appear in the System Tray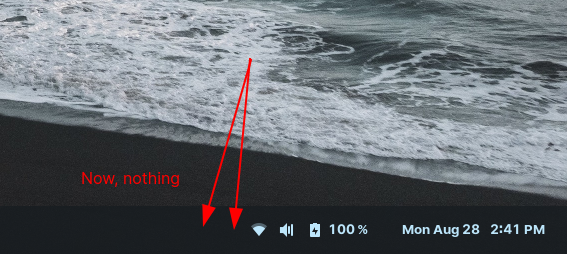 even though they can be seen in the System Monitor.

I have found many other similar posts here that either seem old or not appropriate for my situation (such as removal of the appindicator-*, sudo apt install libappindicator-dev, restarting login session, etc).
Frustratingly, I have to ask why topics are auto closed 3 months after the last post? This seems to not be appropriate at all for tech related topics where problems may reappear, etc (for instance, is it an underlying Gnome issue?).
Anyway, I have also observed in one instance, where I kill a running process such as Flameshot, then restart it, its icon reappears in the system tray.

Interestingly though, the syncthing-gtk icon always seems to consistently remain in the system tray (different system than the one shown in the screenshots -- thus no Syncthing icon).
I have observed this same behaviour on two different Zorin OS 16.3 Systems.
The applications whose icons are not showing were not installed via snaps, flatpaks, or the like.
My system:
Topology: Dual Core model: Intel Celeron 4205U bits: 64 type: MCP 
  L2 cache: 2048 KiB 
  Speed: 800 MHz min/max: 400/1800 MHz Core speeds (MHz): 1: 800 2: 800 
  Flags: 3dnowprefetch abm acpi aes aperfmperf apic arat arch_capabilities 
  arch_perfmon art bts clflush clflushopt cmov constant_tsc cpuid 
  cpuid_fault cx16 cx8 de ds_cpl dtes64 dtherm dts epb ept ept_ad erms est 
  flexpriority flush_l1d fpu fsgsbase fxsr ht hwp hwp_act_window hwp_epp 
  hwp_notify ibpb ibrs ibrs_enhanced intel_pt invpcid invpcid_single lahf_lm 
  lm mca mce md_clear mmx monitor movbe mpx msr mtrr nonstop_tsc nopl nx pae 
  pat pbe pcid pclmulqdq pdcm pdpe1gb pebs pge pln pni popcnt pse pse36 pts 
  rdrand rdseed rdtscp rep_good sdbg sep smap smep ss ssbd sse sse2 sse4_1 
  sse4_2 ssse3 stibp syscall tm tm2 tpr_shadow tsc tsc_adjust 
  tsc_deadline_timer vme vmx vnmi vpid x2apic xgetbv1 xsave xsavec xsaveopt 
  xsaves xtopology xtpr 
Partition:
  ID-1: / size: 456.88 GiB used: 16.12 GiB (3.5%) fs: ext4





neofetch

        `osssssssssssssssssssso`           user1@user1-inspiron 
       .osssssssssssssssssssssso.          -------------------- 
      .+oooooooooooooooooooooooo+.         OS: Zorin OS 16.3 x86_64 
                                           Host: Inspiron 3580 
                                           Kernel: 5.15.0-82-generic 
  `::::::::::::::::::::::.         .:`     Uptime: 1 hour, 17 mins 
 `+ssssssssssssssssss+:.`     `.:+ssso`    Packages: 2127 (dpkg), 12 (flatpak) 
.ossssssssssssssso/.       `-+ossssssso.   Shell: bash 5.0.17 
ssssssssssssso/-`      `-/osssssssssssss   Resolution: 1366x768, 1920x1080, 1440x900 
.ossssssso/-`      .-/ossssssssssssssso.   DE: GNOME 
 `+sss+:.      `.:+ssssssssssssssssss+`    WM: Mutter 
  `:.         .::::::::::::::::::::::`     WM Theme: ZorinBlue-Dark 
                                           Theme: ZorinBlue-Dark [GTK2/3] 
                                           Icons: ZorinBlue-Dark [GTK2/3] 
      .+oooooooooooooooooooooooo+.         Terminal: gnome-terminal 
       -osssssssssssssssssssssso-          CPU: Intel Celeron 4205U (2) @ 1.800GHz 
        `osssssssssssssssssssso`           GPU: Intel Device 3ea1 
                                           Memory: 5178MiB / 7798MiB 


Installed packages: