Gday @fadmarinad , Welcome to our community!
Please provide details of your pc/laptop.
Are you wishing to have dual boot or clean install?
On the bootup GRUB, select " check installation medium for defects " From the options.
Also search & check for compatibility of Linux on your motherboard.
You may also like to check here,
Hii again sir.
i have a laptop with 4gb ram & 320hdd, i want to install zorin os as dual boot. but its not work.
after this when i want to get back to my windows 7 I was surprised by this message


i have exmas on 01/02, I have necessary files in Windows 7 that I want to restore, I hope you can help me.
Thank You
Is the photo of, when you start that laptop?
Do you have access to win7 ?
Hope you backed up your files.
Note: Backup should be done prior to any system update.
Are you trying to install Zorin to help get your files back from windows 7 ?
Further looking at your 1st photo,
To me is seems like there is No Working windows 7 OS.
Because it's setting your driver location to,
sda & sda1 .
Also notice to says " Looking for another operating system"
I think you have tried to dual boot with corrupt drive.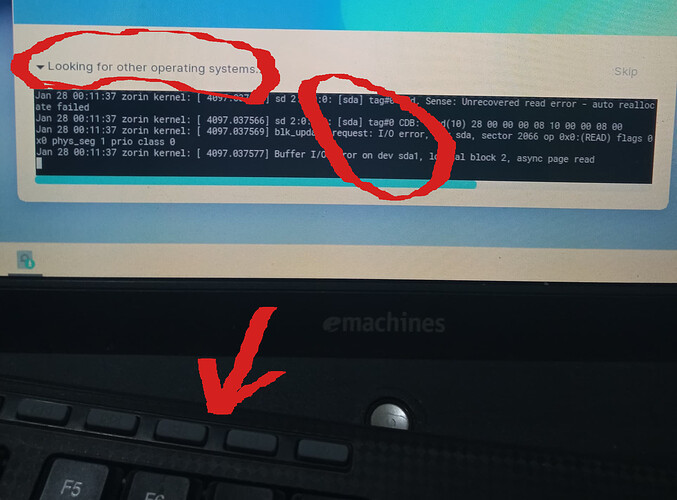 Also why is there a keyboard on top of your laptop?
You can't just attempt to install any GNU/Linux alongside of Windows 7 - you have to shring the C:\ drive first to make room for it. Also if the notebook has/had 4 Primary Partitions present, no GNU/Linux can be installed as an OS installed using mbr (master boot record) can only ever contain 4 primary partitions which is what most Laptop manufacturers do, speaking from experience with having an HP Mini netboot - System Reserved, C:\ drive, Media creation Partition, System Restore Partition (Factory Reset partition.
You could try EasyBCD from NeoSmart to recover your Windows mbr, provided it has not been overwritten. I would boot Zorin in to Live mode, run GParted and see what shows up, partition wise, on the hard drive and post a screenshot back here.
This topic was automatically closed 90 days after the last reply. New replies are no longer allowed.