Those icons are looking really sharp... only if there was a colorful option

Multi-color or just another color variation?
Yeah I mean multi-colored. I like the style of your Icons but personally, I think they hurt productivity as it gets hard to say which application is which by a quick glance at their logos.
Adobe is a recent example of it. This is how their app-suite icons used to look like:


Every application has a distinct color and you can easily tell them apart.
But then they recently changed it to:

This really sucks because now all of them look similar and it hard to tell apart for example when they are in the task bar. That's why I think colorful icon-sets are better than monochromatic ones especially for productivity.
Fair enough. Personally it's the figure not the color that identify an object. Guess it's different from person to person.
As frustrating as it can be to have a machine break down, there is a certain enjoyment in setting up a new or different one...
I love to install and set up a new gadget.It's half the fun.

This is mine. Credits to @Storm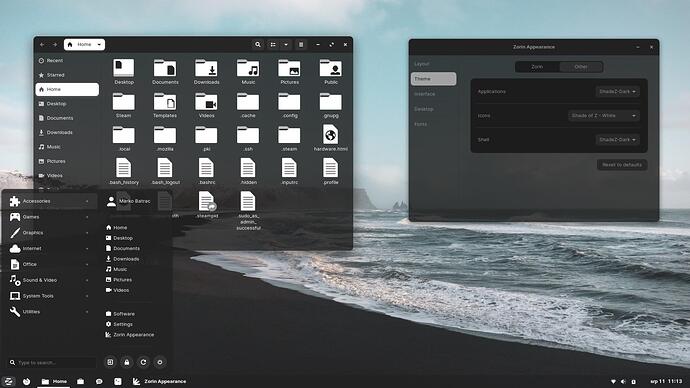 Hello @Storm
How did you use Zorin menu on the panel above the screen?
Right click on the taskbar ---> Taskbar Settings
Style: Panel Size 28-30
Position: Top
---
You might want to use Plank to use as a the lower Panel
Oh! I get it, You moved the taskbar to the top screen.
I use gnome style and remove some features, add plank ...
How stupid I am


Thank you, @Storm
In this one, the menu is the original Zorin OS, or the Arc menu?
Is it Conky you used to display the clock on the wallpaper?