I cannot set wallpapers on my zorin OS lite.
The settings windows doesn't show images.
https://snipboard.io/TEIeL9.jpg
Could somebody please help me to solve this?
Gday @Dumidu , Welcome to the community!
You need to have the file downloaded to your machine.
Next you can add the photo 2 ways.
1; Open the photo location, Right click photo & select "Set as wallpaper"
2; Open Settings/background.
Click "ADD Picture" , find your photo & double click it. You may need to click the existing photo's "x" to enable your new photo.
Hope this helps.
Thank you very much for the answer. I can right click on an image and set it as a wallpaper but unfortunately I cannot find an option to add a picture on settings / background window.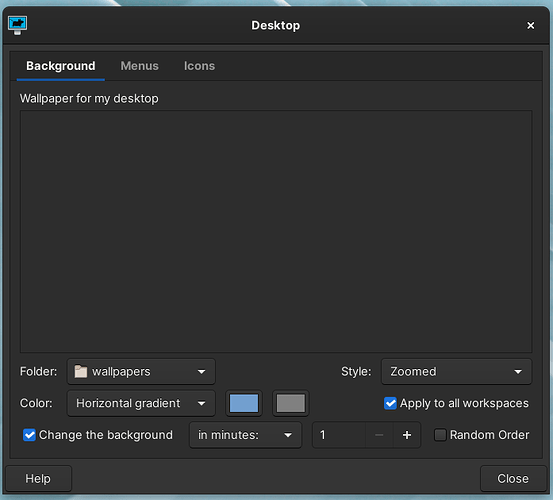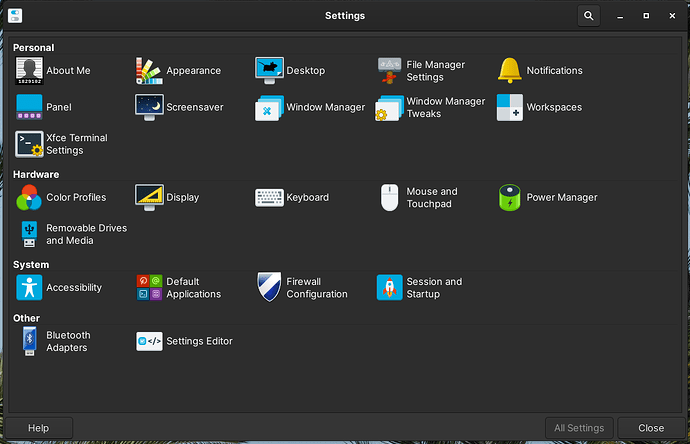 Have you copied your preferred wallpaper picture to the "Folder [wallpapers]" location that the Desktop/Background settings screen is shown pointing to?
Or maybe try and set the "Folder" to the location where your picture is stored.
What is the location of that wallpaper folder? I couldn't find it in my folders tree. So I created a folder named wallpaper in /home/username/Pictures/wallpapers/. Then I copied the images (jpg) files into it. However whatever folder I select from that dropdown menu it doesn't show me any images.
Wallpaper folder is in,
/usr/share/backgrounds/
Have you run:
xfdesktop --replace

?
Next:
In your Desktop Backgrounds picker as shown in your screenshot, clicking folder should offer options that are in Root, in Home and "Other". Do you see all of those options?
Can you provide a screenshot of your desktop, not just the BackGrounds Window?
As said by both @zabadabadoo & @Aravisian , you need to select the path to that new folder.
Open Setting/Desktop,
Click arrow next to "Folder:"
Scroll to & select "Other"
Then select Pictures then your wallpaper folder.
Then Click " Open" in the bottom right corner.

No photo's in my folder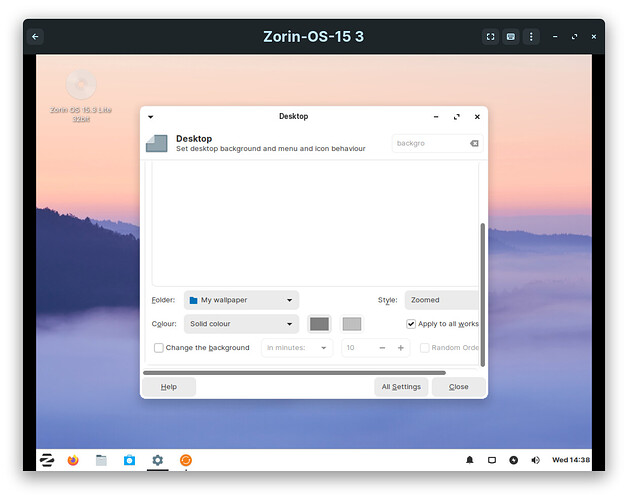 Hope this helps.
Keep us informed.
Thank you very much for everyone who helped here. I could solve the problem. I was using Zorin OS Lite. Zorin Appearence was not working so I had to run the upgrade command. Somehow It has upgraded the system into Zorin OS Core. Now I see the listed options.
One sad thing is with the Zorin OS Lite I had the option to set auto rotate wallpapers but with this core version I cannot see that.
There a couple of apps that can do that.
Do they consume RAM and processing power when they run underneath the surface ? What's the best app to make it working ?
Dunno, as I only on occasion uses Hidamari to run Live wallpaper, but try them out one by one to test them.
Ok thanks! Here on this thread, I see someone has suggested to edit the xml files in /usr/share/gnome-background-properties directory. I'm going to give it a try.
This is a little confusing, maybe another time.
The mind boggles.
Glad to see you have fixed it,
Please mark your last post as the solution, This allows Others to see your fix which may help them.



Thank you.
This is not possible.
Zorin OS Lite does not "upgrade" to Zorin OS Core.
Zorin OS Lite and Zorin OS Core are Editions of Zorin OS. Each is equal to the other.
I certainly do not doubt the veracity of your statements, but clearly, something else is going on here.
Did you run the upgrade command as
sudo apt upgrade
?
Zorin Apperance was not working. So I searched a fix on this forum and found this thread.
I ran these commands
sudo apt update
sudo apt install zorin-os-desktop
sudo apt full-upgrade
It fixed the problem I had with the Zorin appearance. Now it opens.
I see a difference before and after the upgrades.
So I doubt that I'm no longer using the lite version.
How to check which version I have now ?
Ok, you ran an Install Command and installed the Core (Gnome) Desktop on top of your Lite (XFCE) desktop. You now have both.
This added the Core version of Zorin Appearance.
This may not have "fixed" the Lite Version of Zorin Appearance - and I do not know why you believed that it was broken or not working.
You can switch between desktops (Core or Lite) from your Display manager - when you Log In on your computer.
This is the background settings window I have now. It has the option to add a new image. You can check this with my very first sceenshot on this thread. It didn't have the option to add a new image.

Ah.... I remember, now.
Since you are a Lite user, your command would have been:
sudo apt update
sudo apt install --reinstall zorin-os-lite-desktop