Hi everyone,
I recently installed Zorin OS alongside my Windows 11 OS on my gaming desktop.
When I first ran the Zorin USB installer, I chose the "newer NVIDIA graphics" option to run Zorin OS in a live environment and both of my monitors were working in the live environment. I have 1 monitor hooked up over DisplayPort and another to HDMI on the Nvidia RTX 4070 Ti GPU.
After installing Zorin, I booted into the OS and came to find that the DisplayPort monitor was working but the HDMI monitor is not. I checked into the drivers under Software > "hamburger menu" > Software & Updates > Additional Drivers and tried all of the available drivers here with a restart, but none seem to be working. I followed the steps on this guide from this forum to reinstall NVIDIA drivers [How to] Reinstall NVIDIA Graphics Driver but this didn't correct the issue either.
I'm at a loss what this could be. Can anyone help me?
Thank you!
EDIT: To add more information, here are the current list of drivers available under Software > "hamburger menu > Software & Updates > Additional Drivers in case this helps provide any additional information to my post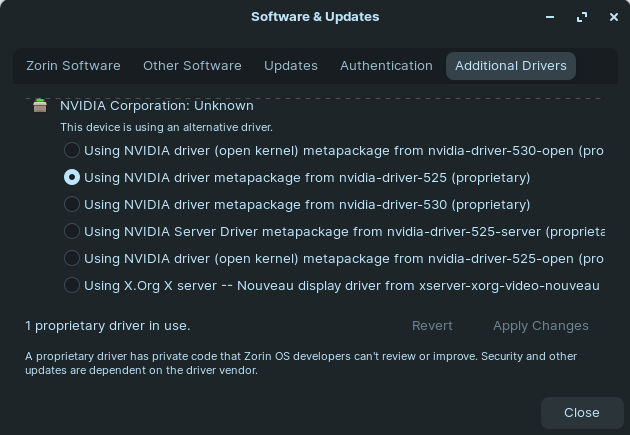 I have tried all of these drivers and performed a reboot after enabling each. I have also gone to Nvidia's website and manually downloaded their driver to try as well. No luck on any of these options, including Nvidia's website's driver for Linux.