Zorin Core taskbar doesnt label/differentiate different browser profiles one uses when multiple are open at the same time, like Windows 7 would.
They are just nameless & makes it much more difficult to navigate & differentiate.
Especially if its important, if you are trying to limit browser fingerprint tracking, or different IP address for each profile,etc.
I wish i could screenshot my windows 7 to show an example, but its on a failing SSHD.
Here is what I am talking about in regards to Zorin though.
The top three open tabs here are actually 3 different browser profiles, but they look like they are all of the same profile/session when they arent.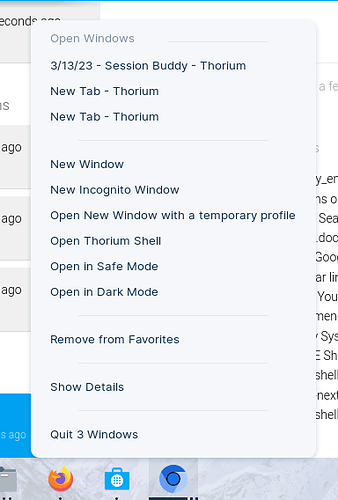 And the same goes for this, this is just another way of viewing the same thing that is shown in the above screenshot:

These look merely like different tabs, I cant tell which profile is which. Windows 7 labeled them.
Can this be fixed?
Someone who's not a part of this forum suggested to me its not fixable in gnome or xfce, & i need to try KDE.
" Zorin OS only comes with gnome (regular) or xfce (lite). So you wont be able to do this with zorin os, unless there is some hacky way I am unaware of to get these desktop environments to use dynamic icon redirects. the KDE and openbox desktops support dynamic icon redirects to some degree, which is what is needed for chromium to be able to change its icon on the fly according to the user profile"
-Thanks