It doesn't recognize my drive
Gday @dandy19 , Welcome to the Zorin community!
For a new Installation of Zorin Pro, Can i ask you to Contact them via email, link should be in your email from Zorin, also Here.
Thank you.
Hope this helps.
@staff
I received an answer from them, but wasn't too helpful. I still can't solve the issue
Please follow this link.
I'm now offline, someone else may help if you need.
If you still have issue's
Can i ask you to tell us if this is dual boot or clean install?
Which Edition: Zorin Pro Core or Lite?
Also your machine Spec's
Cpu
Ram
Graphics
SSD/HHD + size
Installation Device?
Topic Moved to G/H.
THanks:
Clean install
| Processor | Intel® Pentium® N5030 Processor (1.10GHz, up to 3.10GHz Burst, 4 Cores, 4MB Cache) |
| --- | --- |
|Operating System|Windows 10 Home in S mode|
|Memory|4 GB DDR4 2400MHz (Soldered)|
|Storage|128 GB PCIe SSD M.2|
|Graphics|Integrated Intel® UHD Graphics 605|
Is your drive showing in BIOS/UEFI as connected and showing?
Yes, the drive is active and shown
Alright I am not the support staff however am a community member like you. Confirm how are you installing. From USB UEFI Boot? Are you wanting to Dual Boot on the same drive? Different drive or only use Linux?
Thanks for your help/
I cleaned the disk, and trying to install on the drive.
Are you installing from USB via BIOS/UEFI (in other words installing from USB to actual drive)
Yes, I pressed F10 and run from USB
It opens the instlaler, I select the language, but, when comg to select the drive, it only shows the usb, not the pcdrive
Could you post a screen shot - that is oddly weird. That is usually where you can then manually install and format/edit/create partitions accordingly.
I see that the laptop had windows S mode,, go into the bios and turn secure boot off. Also did you update the bios? I know some thinkpads and other Lenovo devices need bios updates and or specific bioses to support linux
Secure boot is off, what kinda bios should I install ?
Update it, not installing BIOS. Is this the first time you are installing Linux? Have you looked at any basic guides in installing?
Goto Lenovo's Support site, enter your PCs model number and find the latest bios patch and update it.
Gday @dandy19.
As @seanhinkley , pointed out,
" Windows 10 s-mode" ( you will need to disable Secure boot)
Do you still have windows running?
After disabling Secure boot have you tried your installation device?
Before updating BIOS : Check if you need too!
Open system information in Windows, your BIOS Ver; Maybe shown in there.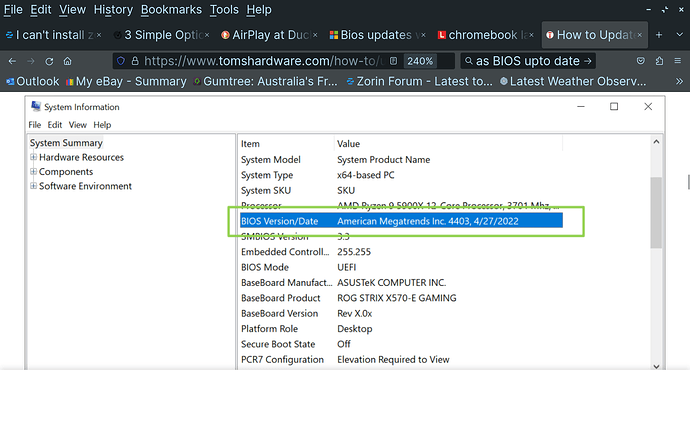 Or
Boot into your BIOS/UEFI & find your BIOS/firmware Version:
Goto Lenovo website & check if your Version is the latest.
To update BIOS firmware, Please try this link, provides a few different ways, This depends on the state of your machine, OS or not/etc.
Keep us informed.