Does anyone else have slow performance on Chrome? In my case, the entire browser interface is somewhat slow
It didn't work
Firefox does not have this problem
I already did, the same thing happens, It seems that it is with the Chromium Browsers
What about opera or vivaldi?
If Firefox is fine then you may want to also try a chrome forum.
Try opera browser. it is very featured browser. you will get stable performance in opera.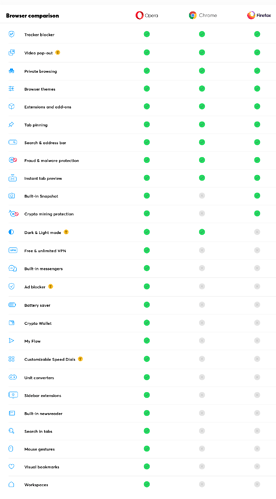 See the above comparison. opera is very stable and it has a lot of features.
run sudo snap install opera in terminal to install opera stable version for Linux.
Yes, opera also has the 'Battery Saver' mode.
Did not even know about all these features. The vpn part sounds interesting.
But again, they are also both Chromium based.
Not many browsers that aren't these days.

Assume you have read this thread: Firefox Alternative. HELP!
Google's monopoly

Even Microsoft gave up and joined Chromium
Chrome eating many ram and background many useless software. Many bugs but still most popular.
This topic was automatically closed 90 days after the last reply. New replies are no longer allowed.