(To anyone recognizing me, yes, hi, I'm back with another "weird" device, apologies)
Greetings.
I'm trying to install Zorin OS 16 Core (no dual-boot) on an Acer Switch 3 (SW312-31-P4UV) 2in1. The "Try Zorin" runs perfectly, as does the installer. However, at the very end of the installer, I'm always left with this error (and no Zorin):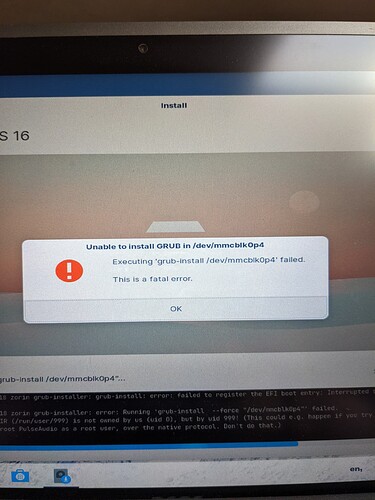 Specs
Intel Pentium N4200 Quad-Core (Apollo Lake)
4 GB RAM
64 GB eMMC (all free space)
64-bit OS
Settings
Security boot - disabled
UEFI, GPT
Sata mode - AHCI
TPM - disabled
(no legacy option available)
Checksum is correct
Live CD (32 GB USB) flashed with Rufus (GPT-UEFI option)
Tried all of the installation options. Possibly "Erase disk and install Zorin" messed something up, but I'm not sure.
Should the installer work from a specs-point-of-view? Everything other than the missing grub is running buttery smooth!
Is eMMC the problem? What if I'd use an external HDD/SSD?
Is there any way I can please just throw the grubx64.efi at the installer?
I've scoured the web but couldn't solve this. Grateful for any and all ideas.