Hi,
I would like to install Zorin to one of my M.2 drives. However, the installer is making heavy weather of this.
I have three M.2 drives with OSs on two of them. One is completely empty and I would like to install Zorin to this (without touching my other drives), and change over the boot in the BIOS. I cannot be alone in this "use case" as modern PCs can easily have multiple drives.
By default, the installer wants to either erase one of my OS, or install Zorin "alongside" it. Why it picks one to erase and not the other, I'm not sure.
So I click "Something Else". Now it gets complicated when it shouldn't be. However, I follow the instructions given here:
https://www.linuxjournal.com/content/installing-ubuntu-two-hard-drives
No matter what I do, I cannot seem to configure it so that it won't write to another drive. In the screenshot below, the drive I want to use is mvne1n1, but it wants to format the swap on another drive (and I don't really want swap anyway but it seems I have no choice).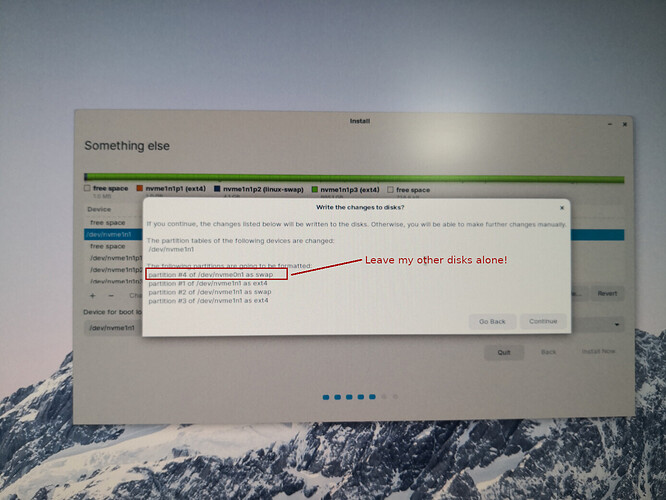 All I really want to do is select a drive and click "install to that and no other". Any way to make this work?
Cheers
PS. Zorin looks great in trial mode. I love the attention to detail and how you guys have organised the options, including theming and options normally found in Gnome Tweaks such as font size. All my devices work out of the box. It seems to working OK on a 4K monitor. It's just a pity about the Ubuntu installer (Fedora/Anaconda is easier).