Hello everyone,
I just purchased Zorin OS Pro and was eager to set everything up. So I have a TP-Link USB device - TL-WN823N to be exact.
The standard wifi driver that comes with apparently every Linux distribution I tried gave me horrendous speeds which is why I sought out a different driver that worked perfectly for me on both Solus and Ubuntu Budgie, which I was using previously.
For both of these distros I just installed the driver rtl8192eu which worked much better, albeit not perfectly. The driver also kept working after restarting. Not so for Zorin OS. I immediately replaced the original driver as I did on Solus and Ubuntu, via this command sh ./install_wifi.sh (in accordance with the readme provided) and the driver was working normally until I restarted because of updates and changing the Nvidia driver. Now I have no more wifi drivers apparently and my computer doesn't even seem to recognize the device. I also cannot reinstall the driver anymore. I am not a complete Linux beginner but this error is beyond my knowledge.
Here's the output from terminal when trying to do a new installation (had to take a photo from my iPhone, I couldn't get the screenshot of the PC).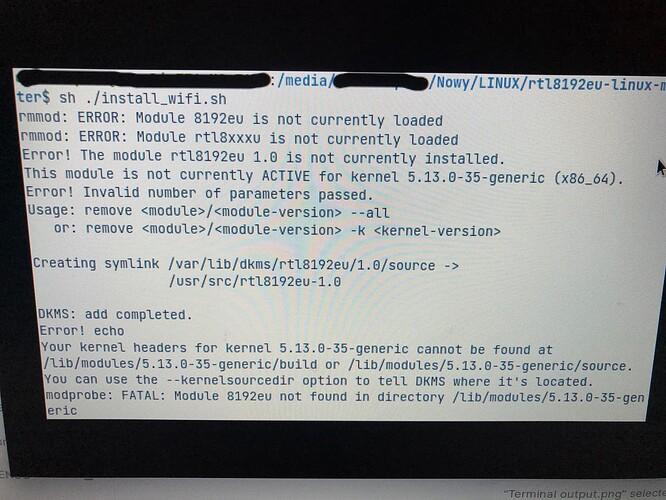 When I run "lshw -C network", it just shows me the Ethernet controller.
Could anybody help me fix this issue? I cannot use an ethernet cable since the computer is in the opposite corner of the room from the router.
I would also like to add "dkms status" tells me "rtl8192eu, 1.0: added" while modprobing the driver says it's not found in directory /lib/modules/5.13.0-23-generic.
Thanks in advance!