Hi everyone,
I have installed ZorinOS on my laptop with dual boot Windows 10.
Its has Intel and NVIDIA graphics.
I have the problem, that with my external HDMI monitor I cannot configure the full resolution.
The HDMI port on my laptop is limited to 4k/30Hz or 1440p/60Hz.
But in ZorinOS the maximum resolution for the external monitor is 1080p/60Hz, there are no options above that. I don't have the problem with the live version of Pop!_OS (also Ubuntu based).
In the "NVIDIA X Server Setting" I switched between the "NVIDIA On-Demand" GPU (Intel UHD?) and "NVIDIA (Performance Mode)". But there are no differences in relation to the resolution.
Is the any solution/idea for the issue?
Thx in advance!
ZorinOS: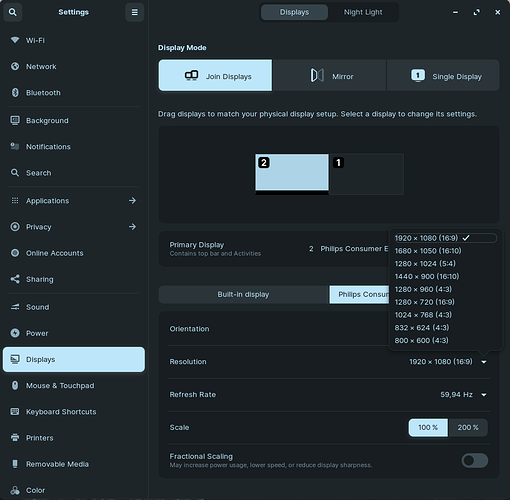 Pop!_OS: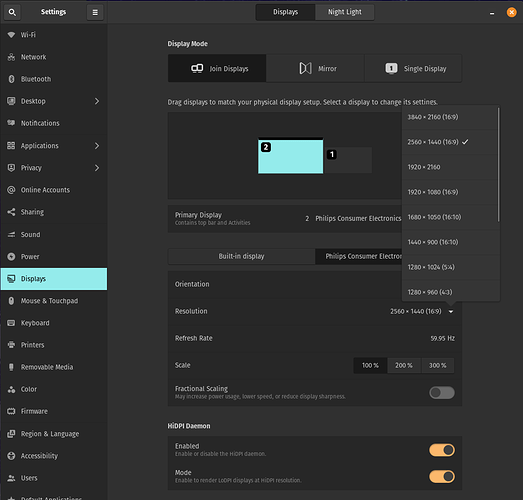 System information:
Acer Swift 3 SF314-56G-76DL
Intel Core i7-8565U, 20GB RAM, 512GB PCIe SSD, NVIDIA
GeForce MX150, Intel UHD 620
External Monitor Philips 278E1 (4k/60Hz)
uname -a:
Linux xxxxx-Acer-Swift 5.15.0-52-generic #58~20.04.1-Ubuntu SMP Thu Oct 13 13:09:46 UTC 2022 x86_64 x86_64 x86_64 GNU/Linux
sudo lshw -C video:
  *-display                 
       description: VGA compatible controller
       product: UHD Graphics 620 (Whiskey Lake)
       vendor: Intel Corporation
       physical id: 2
       bus info: pci@0000:00:02.0
       version: 00
       width: 64 bits
       clock: 33MHz
       capabilities: pciexpress msi pm vga_controller bus_master cap_list rom
       configuration: driver=i915 latency=0
       resources: irq:137 memory:a2000000-a2ffffff memory:b0000000-bfffffff ioport:4000(size=64) memory:c0000-dffff
  *-display
       description: 3D controller
       product: GP108M [GeForce MX150]
       vendor: NVIDIA Corporation
       physical id: 0
       bus info: pci@0000:02:00.0
       version: a1
       width: 64 bitsThis text will be hidden
       clock: 33MHz
       capabilities: pm msi pciexpress bus_master cap_list rom
       configuration: driver=nvidia latency=0
       resources: irq:146 memory:a3000000-a3ffffff memory:90000000-9fffffff memory:a0000000-a1ffffff ioport:3000(size=128)

Device-1: Intel UHD Graphics 620 driver: i915 v: kernel 
Device-2: NVIDIA GP108M [GeForce MX150] driver: nvidia v: 515.65.01 
Display: x11 server: X.Org 1.20.13 driver: modesetting,nvidia 
unloaded: fbdev,nouveau,vesa 
resolution: 1920x1080~60Hz, 1920x1080~60Hz 
OpenGL: renderer: Mesa Intel UHD Graphics 620 (WHL GT2) v: 4.6 Mesa 21.2.6

Device-1: Intel WhiskeyLake-U GT2 [UHD Graphics 620] driver: i915 v: kernel 
Device-2: NVIDIA GP108M [GeForce MX150] driver: N/A
Display: x11 server: X.Org v: 1.21.1.3 driver: x: loaded: modesetting 
unloaded: fbdev,vesa gpu i915
resolution: 2560x1440~60Hz, 1920x1080~60Hz 
OpenGL: renderer: Mesa Intel UHD Graphics 620 (WHL GT2) v: 4.6 Mesa 22.0.5