Plomp? Is that like Prawler?
Is that Harlly Quinn? She was funny in a sort of sedistic way, I figured thats why the Joker kept her around. lol
Yes, guess I misread that one. PLOMB , PROWLER.
Liked the info you wrote on deviantart about Plomb. Was wondering how you got the name. What's the story behind 846
Btw when can we expect the Copperdeck3 icons. I like the metalic look.
Aravisian chooses a lot of unique names that allude me without explanation. Tranquility made sense to me, cause Sea Of Tranquility. And Predator makes sense if its from Predator movie. The others though, again, explanation needed lol.
But what matters most, is not so much the names of Aravisians themes. What is most important, is the quality of the themes. Aravisian makes high quality themes. So if you find a theme you like, excellent!
So far, the 3-themes that I like from Aravisian so far are, Azenis, Predator, and Tranquility.
The Full Description is in the DeviantArt page.
Uhhh...
It is not from Predator movie.
The others:
Serenity and Sister Theme Vallis: Serenity Valley.
There you go. A man full of surprises. Likes to leaves in vain for the goodies.
There is always more to a person then what you see on the face cover. This is why, those who truly take the time to get to know someone, show how much they care about that person.
Empire theme is named after the Art Deco dark gothic style buildings of New York.
Moebius is named after the brother of a main character of an old and very famous piece of literature... That the name escapes me of. Which is embarrassing that I cannot remember the themes namesake.


I have another twenty themes or so re-worked but unpublished, including Spatium Circueo, Latin for "Full Circle."
Daylight - deep orange, red and black theme, named after Southern Pacific "Daylight" system.
I did not name Azenis - J.J. Ying did. Treetog named Copperdeck.
@dasjdoom,
fixed Gnome Weather icon.
If you spot any more, please let me know.
Well sometimes I like to read in epub style. In Zorin15.3 i had foliate installed, now I see this comes standard (hope I'm right) with the Zorin16 Core version. So the icon for the Foliate app also needs adjustment. I know you can't have them all covered, there are to much apps there. But still great work.
I wonder if Aravisian's theme updates get automatically applied once an apt get update is initiated.
The reason I ask that is I ran the command yesterday, but I saw no changes to my theme. I even did ALT F2 and r today to reload the desktop, saw no change. If I am forced to restart or log out and back in, thats not going to happen for many days from now.
I Googled, is the NVME M.2 slot hot swappable, it said no. So that forced me to shutoff my notebook before I opened it up to install my new SSD drive. Why does that matter some of you may ask?
It matters, cause if I have to start the computer up all over again, my MSI keyboard will usually not work after login to the OS. And it will require a restart, or two, or 3, or 4, by the time the keyboard finally begins working after logging into the OS.
So thats why you saw, I was running my computer for 22-days straight on that NeoFetch, where I had up to 11GB of RAM usage out of 32GB of RAM, running on Gnome lol. Yes, the issue I just spoke of is a known issue, where their seems to be no resolution that I could find.
I think its just cause its a Corsair K95 keyboard, and MSI don't like them. Its like, you want me to connect, well I don't feel like it so no. After 2 3 4 restarts, are you ready now? Yes, I am ready now, after I have injested all the delicious clean 120v power from your wall for several minutes, now I will.
Ohhhhhh, thank you MSI for being so accommodating, I really appreciate it.

Nope I'm not using Flatpak. Have this one installed com.github.johnfactotum.foliate_2.6.3_all.deb
Like StarTreker mentioned. I refreshed with dist-upgrade but still no change fore the weatherapp icon.
Yes, the icons and themes get updated.
Alright, showing you a new screenshot since I ran the apt get update command yesterday.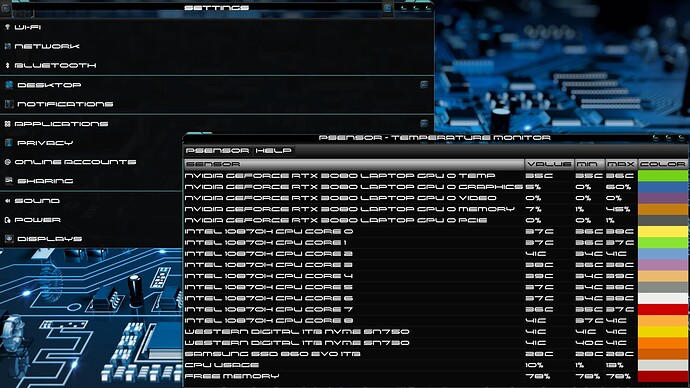 I just remembered to say, yes, POP OS does use FLATPAK heavily in its OS. Don't know if that has anything to do with anything. But since Aravisian was asking another user about FLATPAK, thought I'd mention it in my case.
The 32Gb memory your using is a lot. Perhaps when gaming or doing some heavy multitasking could be the way to make use of such an amount. But for the normal OS usage 8GB or 16GB is sufficient I would say.
Btw I did the update and upgrade, but still no change of icons.
Because I have not uploaded them, yet.

Impatient...
Just installed Okular - Was using it when I had the full kde desktop installed - but the plomb icon is missing.
Have a few more installed which sometimes use;
Isomaster
Nomacs
Yacreader and Yacreader Library
@StarTreker , I will upload a new Predator shortly. You can check in about an hour and see if it appears in your terminal or software Updater.
Otherwise, if you are not checking for them manually with sudo apt update && apt list -u, theme and icon theme Updates will appear in your Updater Notifications that pop up.