Hello!
I am having problems to install Wine on Zorin OS 16, when I use the common command on terminal this appears: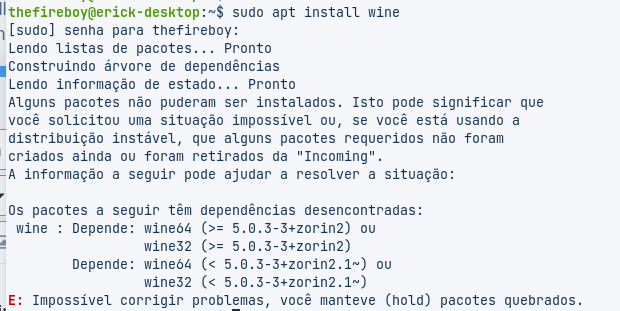 It is in portuguese, but the principal error is:
Some packages could not be installed. This could mean that
you requested an impossible situation or, if you are using the
unstable distribution, that some required packages were not
created yet or removed from "Incoming".
The following information may help resolve the situation:
The following packages have mismatched dependencies:
wine : Depends: wine64 (>= 5.0.3-3+zorin2) or
wine32 (>= 5.0.3-3+zorin2)
It depends: wine64 (< 5.0.3-3+zorin2.1~) or
wine32 (< 5.0.3-3+zorin2.1~)
E: Unable to fix issues, you kept (hold) broken packages.
Please guys, I really need your help!
Thank you!