Thanks ..... where do I find them in Synaptic .... ?????
They are like "Cinnamon Spices", readily found using your Panel Settings.
Right click the panel and select Add an Applet
A popup window will offer the ones you currently have installed under "Manage" You want the next tab over: "Download"
In the search, you can search for "Stark-menu" and "cinnamenu" - It will not hurt any to install both, So, I would install both and try them out. You can remove the one you prefer less when done.
Once located, download the menu applet.
Then return to the Manage Tab.
Scroll down the list of applets you have to reach the Menu Applet and then Select it and Add it to the panel.
Tried something while thinking of a "tech guru", hope this will cheer him up somehow. We all know that he also has this good influence on us, hope he's aware of that. My new desktop.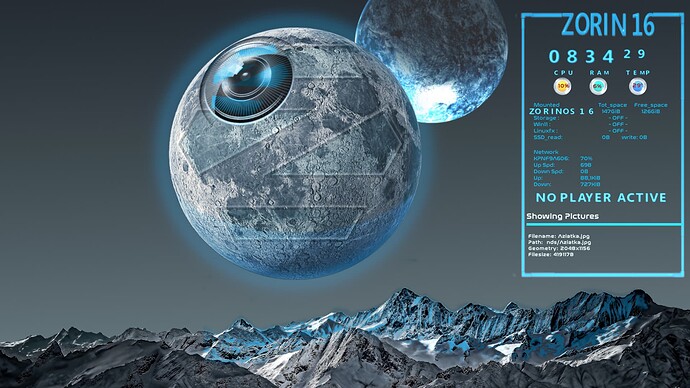 @Ovi This is pure simplicity

Link for the curious:
sudo apt-get install libgl1-mesa-dev libpulse0 libpulse-dev libxext6 libxext-dev libxrender-dev libxcomposite-dev liblua5.3-dev liblua5.3 lua-lgi lua-filesystem libobs0 libobs-dev meson build-essential gcc
git clone https://github.com/jarcode-foss/glava
cd glava
meson build --prefix /usr
ninja -C build
sudo ninja -C build install

This puppy will put a smile on your face.
Hahaha, Kees that is really an outstanding desktop.
It looks like a - strafhoekje - penalty corner. Not much room for the wacom.

@dasjdoom thats only the Zorin part, the Mac part is not on the picture.
on the Linux/Zorin part I use my work-Citrix, and on the Mac part I do my work. Graphic stuff, using Illustrator, a bit of Photoshop and also ArtPro and ArtPro+
You won't believe it but I like to sit (SIT, not the other word) here, better than office though I must admit, it is a very small mini room.
Papa's gotta brand new desktop,
Applications theme - Hercules
Icon theme - Hercules
Shell theme - Hercules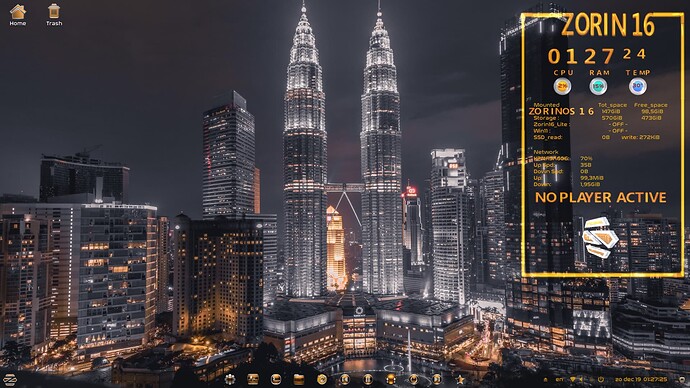 Am I the only one who had the urge to Howl?